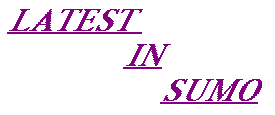 1999 KYUSHU GRAND SUMO TOURNAMENT
(Nov.7 to 21 Fukuoka Kokusai Center)
Daishoho succumbs to cancer
Former komusubi Daishoho was pronounced dead on the morning of Dec. 4. He was 32. Daishoho was born in Sapporo, graduated from Nihon University, and became a professional sumo wrestler in Jan. 1990. He retired in June 1999. He disclosed to the public for the first time that he was suffering from pancreatic cancer. His collegiate sumo friend Maenoumi organized a hair cutting ceremony for him in October knowing that Daishoho would probably not survive to wait for an official one which usually is held around a year after retirement. At that time, he already obviously lost a lot of weight, but was walking on his own two feet.
EMPEROR'S CUP WINNER: MUSASHIMARU
Fighting Spirit Award: Kaio
Outstanding Performance Award: Tosanoumi
Outstanding Technique Award: Tochiazuma

Final day
While the makunouchi bouts were in action, a sad news was announced. Maenoumi decided to retire. He returned to fight after withdrawing the day before due to a left thigh injury. But he lost--finished the tourney with 6 wins 9 losses. Ranked juryo no. 10, if he stayed on the next tourney, he would've had to fight in the makushita--non-salary winning division. Maenoumi said that he will not remain with the Japan Sumo Association either. Now, the result in the highest of high. Takanonami finished the tourney with 6 wins 9 losses facing defeat before Kaio. Takanonami will be ranked sekiwake the coming tourney, but if he wins 10 bouts, he can regain the ozeki title. Chiyotaikai slapped Dejima. Dejima hurled Chiyotaikai. Both flied out the ring in a similar position. However, Dejima's foot touched the floor first while Chiyo was still in the air. So Chiyo was given the win. And finally, the highlight of the day and of the entire tourney. The 2 yokozuna fought for the Emperor's Cup. They couldn't take off to the bout immediately. First, Maru required time. And then, Takanohana stood up too fast. In the third try, the bout was off to a start. Takanohana got hold of Musashimaru's belt while Maru couldn't get Taka's at all. Taka pushed, but Maru stopped him from getting any further. That action was repeated. And then, Maru twirled Taka on the floor. Taka dropped, and sat on the edge of the ring in a daze. Fans threw cushions toward the ring. Musashimaru clinched his 7th victory and his 70th win in 1999.
Michiyo's Note: The final bout was incredibly exciting. Most people most have thought Maru would win--considering the fact that he could not get Taka's mawashi at all, and his posture was a little too high. As a result, Takanohana had a completely blank look with his hair hanging into his face-- a look that shows he really put all his might into the bout.
14th day
For the 2nd time this tourney, it was a sellout crowd. Tosanoumi succumbed to his 3rd straight loss. He didn't stick up to his opponent like he used to earlier in the tourney, and was taken out by Kotonowaka. It appeared Tochiazuma would drive Kaio out but Kaio withstood and attacked Tochiazuma's throat and finally pushed him out. Kaio collected his 10th victory. Takanonami who has no choice but to win to keep his ozeki ranking faced Tohki. Tohki charged at his throat constantly. Takanonami fell out. When the ozeki stood up, he looked pale and lifeless. He will be demoted after this tourney.