OTHER JAPANESE BASEBALL PLAYERS IN THE US
This page has been modified on May 6, 2023

IN 2023
Masataka Yoshida with the Boston Red Sox
The muscle man continued a feat. On May 5 he recorded his 15th consecutive game. The Red Sox beat the Philadephia Phillies 5 to 3.

On Apr 23, he hit in 2 homer runs in one inning. One was a grand slam, helping his team defeat the Milwaukee Brewers 12 to 5.

On Apr 2, Yoshida played as DH. He hit in a run, singled, stole base, contributing to his team's win over the Orioles.

The RBI king of WBC was 4th to bat with the Red Sox in his first year joining the MLB after leaving a successful career with the Orix Buffaloes. On Mar 30, he hit in a run and had another base hit. But his team lost to the Baltimore Orioles 9 to 10. Yusei Kikuchi with the Toronto BlueJays
Kikuchi faced the Yankees on Apr 21. He gave up only a 4un in 5 inning, and earned his 3rd win in a 6 to 1 game.

Seiya Suzuki with the Chicago Cubs
Seiya was up to bat for the first time with MLB on Apr 14. It's after recovering from an injury. He homered. The Cubs beat the LA Dodgers 8 to 2.

Kodai Senga with the New York Mets
Senga started against the New York Mets on May 5. He pitched a shut out 6 innings and won his 4th game.

Senga was not pitching well on Apr 20 still after giving up 4 runs in 5 innings, he was able to win his 3rd game which ended 9 to 4 against the San Francisco Giants.

Senga won his 2nd game on Apr 8, giving up a run in the 6th inning and his team beating the Florida Marlins 5 to 2. Senga started his first game in the MLB on Apr 2. He pitched 5 1/3 inning, striking out 8, giving up 1 run. He earned his first win in a 5 to 1 game against the Florida Marlins.

IN 2022
Seiya Suzuki with the Chicago Cubs
On Apr 12 Seiya homered twice to help his team beat the Pittsburg Pirates.

Seiya slammed a powerful home run in the game against the Milwaukee Brewers on Apr 10. The Brewers, however won the game.

Seiya was out with an injury. He made a comeback and on Jul 3 with an inside the park home run. But the Cubs lost the the Milwaukee Brewers.

Seiya hales from Hiroshima Carp. In his first game on Apr 7, he singled and came home. He celebrated the first MLB victory with the Cubs beating the Milwaukee Brewers 5 to 4.

IN 2021
Yoshitomo Tsutsugo with Pittsburgh Pirates
Tsutugo started to hit homers in August. They on Aug 29 he slammed a 3 run home run to give his team a victory over the St Louis Cardinals.

Yusei Kikuchi with the Seattle Mariners
Kikuchi lost a home run to Mark Canha of the Oakland Athletics. Otherwise he pitched well, until he had to retire due to a backache in the 6th inning. The Mariners won 4 to 2 and Kikuchi won his 2nd game on May 25.

Kenta Maeda with the Minnesota Twins
On May 3, Maeda pitched a shut out 5 1/3 innings, striking out 8. It's a big recovery from his previous games. He won his 2nd game of the season in a 6 to 5 game against the Texas Rangers. On Apr 7, Maedon pitched 6 innings, gave up 2 runs. He won his first game of the season. in a 3 to 2 win over the Detroit Tigers.

IN 2020
Kenta Maeda with the LA Dodgers
Joined the Minnesota Twins this season. He started on Aug 12, pitched 6 2/3 innings, gave up 2 runs. His team won 2 to 3 against the Milwaukee Brewers.

Yoshitomo Tsutsugo with Tampa Bay Rays
Yoshitomo was quiet with the bat for a while but on Aug 12, blasted a 3 run home run. The Rays beat the Boston Red Sox 9 to 5.

Yoshitomo was amazing. On the first day of the season on July 24, the former slugger with the Yokohama BayStars blasted a 2 run homerun. However, his team lost to the Toronto Blue Jays 6 to 4.

Shogo Akiyama with Cinncinnatti Reds
In the first game of the season on July 24, Shogo was called to bat in the 6th inning. He hit in a run and contributed to his team's 7 to 1 win over the Detroit Tigers.

IN 2019
Yusei Kikuchi with the Seattle Mariners
On Aug 18, Yusei hurled over the distance with 98 pitches. He shut out the Toronto Blue Jays in a 7 to 0 game and earned his 5th win.

Kenta Maeda with the LA Dodgers
Maeken started the season pitching on Mar 30 against the Chicago Cubls. He pitched 6 2/3 innning, gave up 2 runs and won h is first game in a 8 to 6 game. On Apr 5 he won again, this time by hurling 5 innings, losing 1 run against the Colorado Rockies 10 to 6.

IN 2018
Kenta Maeda with the LA Dodgers
Maeken's first game of the season was on Mar 31. He pitched will, giving up no runs in 5 innings, striking out 10. His team won and so did he.

IN 2017
Norichika Aoki with the Houston Astros
On June 11, Aoki started. In the 4th inning, he had a 2 base hit. In the 6th, another base hit to mark his career 2000th hit, combining those he recorded in Japan. He also had a base his in the 8th inning. But his team lost 5 to 12 to the LA Angels. He said the most memorable was his very first base hit in professional baseball with the Yakult Swallows.

Kenta Maeda with the LA Dodgers
On June 27, Maeda pitched a shut out 7 innings. His team won 4-0 against the LA Angels. He picked up his 6th win.

Maeken became the first Japanese pitcher in the MLB to win a game. It's on Apr 9. But his performance was not hailed as he gave up 4 runs in 5 innings. His team beat the Colorado Rockies 10 to 6.

Koji Uehara with the Chicago Cubs
Uehara pitched the 7th inning for the Chicago Cubs on Apr 3. He held the St Louis Cardinals to zero. But in the end the Cubs lost 3 to 4.

IN 2016
Kenta Maeda with the LA Dodgers
Maeken wasn't doing well, but finally on June 8 he was pitching in better shape, hurling 6 2/3 innings giving up just a run and striking out 9. His team however lost 1 to 0 to the Colorado Rockies.

Maeken for the first time faced the player he admires, Ichiro on Apr 28. He got Ichiro out in all 3 ties he was at bat against him. However, Maeken lost runs to the Florida Marlins in the 7th inning, and pitcher after him could not save the game. He succumbed to his first loss in a 3 to 5 game.

Maeken as he's known in Japan left the Hiroshima Carp to join the Dodgers. The Hiroshima star started on Apr 6.against the San Diego Padres. He not only pitched well. He homered. He hurled a shut out 5 inning. The Dodgers won 7 to 0.

IN 2015
Hisashi Iwakuma with the Seattle Mariners
Iwakuma achieved a feat of a no hitter game on Aug 13 in the game against the Baltimore Orioles. He's only the 2nd Japanese to do so in MLB or the first since Hideo Nomo. It's his 4th win this season as he started out late in the season.

Norichika Aoki with the San Francisco Giants
Aoki has been hitting well since the start of the season on Apr 6. He had hits in 9 games in a row.

IN 2014
Hisashi Iwakuma with the Seattle Mariners
It's so far a smooth season for Iwakuma. On Aug 19 he struck out 11 and won his 12th game in a 5 to 2 game against the Philadelphia Phillies.

Before the game on June 15, Iwakuma was reported to have complained of a stiff neck. But he started the game against the Texas Rangers anyway. He pitched 8 inning and gave up just a run. He earned his 5th win in a 5 to 1 game.

Iwakuma pitched well on May 8. He gave up a base hit against another Japanese Norichika Aoki of the Kansas City Royals. But he pitched a shut out 8 inning and his team won 1 to 0. It's his 2nd victory.

Iwakuma's first start of the season was on May 3 after recovering from an injury of his finger. He gave up 4 runs in 6 2/3 innings. His team beat the Houston Astros 9 to 8 and Iwakuma earned a win.

Koji Uehara with the Boston Red Sox
Uehara pitched his first game of the season on Apr 2. It was a game with a 4 run lead against the Baltimore Orioles which he pitched smoothly. On Apr 3, he closed the game against the Orioles with just 7 pitches and won his first save in a 4 to 3 game. His team was losing 10 games in a row. But Uehara came on to stop the extension of the losing streak on May 26 and won his 10th save against the Atlanta Braves

Hiroki Kuroda with the NY Yankees
It was unveiled on Dec 27 that Kuroda will sign with Hiroshima Carp, his old team. It's a year contract for 400 million yen. He is reported to have been offered 16 million dollar, so he agreed to a huge reduction.

On Sept 19, Kuroda hurled until the 7th inning giving up 3 runs. His team beat the Toronto BlueJays and he was able to earn his 11th win.

Kuroda gave up 2 runs early in the game on Aug 17, but won the game by hurling 6 2/3 innings. He won his 8th game. It was 4 to 2 against the Cincinnatti Reds.

Kuroda lost 2 home runs to Toronto Blue Jays Jose Bautista on Jul 25 and in all lost 4 runs in 5 2/3 innings. But with Ichiro's 3 run home run, the Yankees clinched the game 6 to 4. Kuroda earned his 7th win.

Kuroda started his season on Apr 2. He pitched 6 innings and gave up 3 runs. His team lost 1 to 3 against the Houston Astros, so Kuroda had to take a loss. However, on Apr 8 he lost 2 runs in 6 1/3 innings, but his team won 4 to 2 against the Baltimore Orioles and Kuroda earned a win.

Norichika Aoki with the Kansas City Royals
Aoki has been hitting well. On Apr 8 he had 2 base hits and contributed to the team's 4 to 2 win against the Tampa Bay Rays. On Apr 30 he had a hit 5 games in a row and helped his team beat the Blue Jays.

IN 2013
Koji Uehara with the Boston Red Sox
Koji Uehara has been successfully pitching as a closer this season. On Sept 29, he took over from another Japanese, Junichi Tazawa. He pitched 1 2/3 inning, and closed the game smoothly earning not only his 20th save, but also clinching his team's American League East victory.

Uehara's feat continued throughout the playoff. He won a game and recorded 3 saves and won MVP on Oct 19.

For the first time Uehara pitched in the World Series. Its on Oct 24. He pitched the 9th inning but as his team was behind and no miracle happend, the Red Sox lost that game 2 to 4 to the St Louis Cardinals. On Oct 28, he pitched 2 innings and earned his 7th save in post season in the game his team won 3 to 1. On Oct 30, Uehara pitched in the 9th inning with his team taking the lead and smoothly closed the game and the World Series. It was a 6 to 1 win for the Red Sox. He's only the 3rd Japanese along with his teammate Junichi Tazaka to become world champion.

Hiroki Kuroda with the NY Yankees
Kuroda started his first game this season on Apr 3. It was a tragic game for him as his finger was hit by the ball and lasted only until an out in the 2nd inning.

On Apr 8 he started for the 2nd time. This time he lasted 5 and 1/3 innings, and gave up 3 runs. The Yankees won 11 to 6 against the Milwaukee Brewers. Kuroda won the game.

On 14 Apr Kuroda pitched well. He did not allow any runners to make it to 2nd base into the 8th inning. In the end, he shut out the Baltimore Orioles in a 3 to 0 game. Kuroda earned his 2nd win.

Kuroda said he was not in good shape after he started in the game on Apr 30. But he pitched a shut out 7 innings. He struck out 8 and gained his 4th win in a 7 to 4 game against the Houston Astros.

On May 13, Kuroda pitched well. He lasting 7 2/3 innings giving up 2 runs, and won his 5th game in which the Yankees defeated the Kansas City Royals 4 to 2. However, he was mad. The main umpire did not call strike for what Kuroda thought should have been. He reacted. When he left the mound he showed anger towards an umpire who went up to him to say it was just a pitch called wrongly.

On May 17, Kuroda started and shut out the Toronto Blue Jays in the 8 innings he pitched. He killed Munenori Kawasaki on first after he walked him. The Yankees won 5 to 0 and Kuroda earned his 6th win.

Kuroda could not win for a while but on June 19, he was supported by Ichiro, who homered and bounced the ball big to hit in 2 runners. Kuroda lasted 6 1/3 innings giving up 2 runs. He earned his 7th win in a 6 to 4 win over the LA Dodgers..

On Aug 12 Kuroda pitched a shut out 8 innings and his team beat the LA Angels, and he already won his 11th game.

Hisashi Iwakuma with the Seattle Mariners
On Apr 3, Iwakuma started in his first game of the season. He performed well by pitching 6 innings and giving up a run in the 2nd inning. His team won 7 to 1 and Iwakuma already earned a win.

Iwakuma started on Apr 7 against the Chicago White Sox. He gave up a 2 run home run in the first inning. Then in the 7th inning he lost another homer. He lasted until the 8th inning. The Mariners in the end lost to the White Sox 3 to 4.

On Apr 13 Iwakuma's rival pitcher was Yu Darvish of the Texas Rangers. He pitched 6 2/3 innings giving up just 3 base hits. He celebrated his 32nd birthday with a win in a 3 to 1 game.

On May 15 Iwakuma pitched against the Yankees. He prevented his former teammate Ichiro from getting on base. He pitched 7 innings, giving up 2 run. His team won 12 to 1 and he earned his 5th win.

Iwakuma has been pitching well. On Sept 18 he started against the Tigers, pitched 8 inning without giving up a run. His team won 8 to 0 and he won his 13th game.

Norichika Aoki with the Milwaukee Brewers
Aoki was on the starting line up in the season opener on Apr 1. In the 3rd inning, he slammed a home run. His team clinched the game in the final inning against the Colorado Rockies 5 to 4.

Aoki on Apr 6 had 2 base hits however his team lost to the Arizona Diamondbacks 2 to 9.

On May 14, Aoki had 3 hits, 3 RBIs and stole base twice to help his team beat the Pittsburgh Pirates 5 to 1.

Kyuji Fujikawa with the Cubs
Fujikawa pitched in the first game of the season on Apr 1 as a closer. He was on the mound in the 9th inning with runners on 1st and 2nd. He took the batter out on a pop up, and earned a save in a 3 to 1 win over the Pittsburgh Pirates.

He pitched again on Apr 4. It's in the 8th inning against the Pittsburgh Pirates with a lead. He closed that inning smoothly. His team won 3 to 2. But on Apr 6, he was disappointing give up 2 runs, and his team in the end losing 5 to 6 to the Atlanta Braves. On Apr 9, he had a runner out on a infielder's faulty play. But he managed to earn his 2nd save in a 6 to 3 game against the Chicago Cubs.

IN 2012
Hiroyuki Nakajima joins Athletics
In Oakland on Dec 18, Hiroyuki Nakajima who was shortstop for the Lions, announced his 2 year contract with the Oakland Athletics. The 30 year old will wear number 3 or the same number he wore with the Lions.

Kyuji Fujikawa signs with the Cubs
The Tigers former relief pitcher told a news conference on Dec 7, he has signed a 2 year contract with the Chicago Cubs. It's for 9.5 million dollars. He will wear number 11.

Hiroki Kuroda with the NY Yankees
In the Championship Series against Detroit Tigers, Kuroda started on Oct 14, with only 3 games in between the last time he started. He pitched pretty well, with some unfortunate plays and judgements made by the umpire. He struck out 11 in 7 2/3 innings and was held responsible for 3 runs lost. The Yankees lost to the Tigers 0 to 3.

Kuroda started in game 3 of the American League Division Series against Baltimore Orioles on Oct 10. He lost 2 homers, but went on pitching until the 9th inning. His teammate Raul Ibanex supported with 2 home runs. The Yankees clinch the game 3 to 2 in the 12th inning.

On Oct 3, Kuroda started. He pitched 7 innings, gave up 2 runs. He contributed to winning the game which finished 14 to 2 against the Boston Red Sox, to help the team secure an American League East victory. Kuroda won his 16th game.

In a see saw game on Sept 5, Kuroda gave up 4 runs in 7 innings, but managed to earn his 13th win in a game that ended 6 to 4 against the Tampa Bay Rays.

Kuroda was supported by Ichiro on the game of Aug 19. Ichiro homered twice. Kuroda hurled 8 innings giving up 1 run. He on his 12th game in a 4 to 1 victory over the Boston Red Sox.

Kuroda started on Jul 23 in Safeco Field with Ichiro on his team. He hurled 7 innings, struck out 9 and won his 10th game this season by stopping his teams losing streak at 3. The Yankees beat the Mariners 4 to 1.

On Jun 30, Kuroda pitched a shut out 7 innings, striking out 11 times the Chicago White Sox. The Yankees won 4-0, and Kuroda won his 7th game.

Kuroda pitched a shut out 7 innings on Jun 8. Unfortunately, he couldn't carrying on pitching after he was hit by the ball. At anyrate the Yankees beat the NY Mets 9 to 1. Kuroda earned his 5th win.

On May 27, Kuroda started and shut out the Oakland Athletics in the 8 innings he pitched and earned his 4th win. It's in a 2 to 0 game.

Kuroda won his 3rd game on May 11. In 7 innings he lost only 2 runs against the Seattle Mariners in a game which finished 6 to 2.

Hisashi Iwakuma with the Seattle Mariners
In the last game Iwakuma started this season on Oct 2, he pitched 7 innings, gave up 1 run and earned another win or his 9th. It was in a 6 to 1 game against the Los Angeles Angels.

Iwakuma was not in good condition in the first half of the season, but improved in the later. He accummulated wins and on Sept 27, he won his 8th game hurling 6 innings, giving up 2 run which ended 9 to 4 against the Los Angels Angels.His ERA is 4th in the American League. P> Norichika Aoki with the Milwaukee Brewers
Aoi, who joined from the Yakult Swallows, on Sept 26, was blasting. He slammed his 10th home run in the 3rd inning. He had 2 base hits, including a double and contributed to his team's 8 to 1 win against the Cincinnati Reds.

IN 2011
Hiroki Kuroda with the LA Dodger
Hiroki Kuroda has been doing very well. On May 17, he pitched a shut out 7 1/3 innings. His team won 3 to 0 against the Milwaukee Brewers. Kuroda won his 5th game to tie with the league leader. On Aug 30, Kuroda hurled 6 innings, he gave up 2 homers in all 4 runs. But he won his 11th games in a 8 to 5 games against the San Diego Padres.

Kosuke Fukudome with the Chicago Cubs
Fukudome was a wonder on Apr 25, hitting 5 base hits. It was a multi hit 7 games in a row. But the Cubs lost to the Colorado Rockies 3 to 5. On May 8, he not only hit well, with a double as well. With runners on base, he hit the ball to center. A runner came home and the Cubs defeated the Cincinnatti Reds 3 to 2. On June 16, Fukudome had 3 hits including a home run and hit in 3 RBIs. His team defeated the Milewaukee Brewers.

Tsuyoshi Nishioka with the Twins
Tsuyoshi Nishioka, a former Chiba Lotte Marine 2nd baseman signed a 3 year contract worth 9.25 million dollars with the Cincinnatti Twins. On Apr 3, Nishioka hit in a run with a double, and hand another base hit. But he failed to take his team over a victory against the Yankees. The Twins lost 3 to 4. @ On Apr 7 he started in the game against the Yankees. A nightmare for him in the 7th inning. When he was about to throw the ball to first, Nick Swisher slid into 2nd while banging into Nishioka. Nishioka fell and could not get up. He was later diagnosed with a broken leg and went into the disabled list.It's only in his 6th game this happened.The Twins lost 3 to 4. On June 16, Nishioka started in a game for the first time since he's recovered from his injury. He fielded well on second. He even had a base hit. His team won 1 to 0 against the Chicago White Sox. Thereafter he was not contributing muc. But on Jul 4 he hit in 2 runs with bases loaded and took his team to a 7 to 0 win against the Cincinnatti Reds. He had 3 base hits on Jul 6, and 2 base hits the following day.

IN 2010
Takashi Saito with the Atlanta Braves
Saito pitched the final inning against the SF Giants on Aug 8 and with the team's 8 to 6 win earned his first save.

Koji Uehara with the Baltimore Orioles
The former Yomiuri Giants ace was back on the mound on May 6. After some time on the disabled list due to an injured thigh, Uehara was given a chance to pitch the 8th inning. He finished it smoothly by pitching against 3 players. His team beat the Minnesota Twins too 2 to 0. On Jul 20, Uehara pitched in the 12th inning. His team cinched the game in the 13th inning against the Rays, and Uehara won his first game of the season. On Aug 21, Uehara was on in the 9th inning and closed the game. He earned his first save in a 8 to 6 game against the Texas Rangers.

Hisanori Takahashi with the NY Mets
Hisanori has been given a few chances to pitch for the NY Mets, but it was on on Apr 23 that he clinched a win for the first time. He pitched from the 4th inning or 3 innings, struck out 7. His team won 5 to 2 game against the Atlanta Braves. On Jul 4, he took 5 consecutive strike outs. He hurled 5 0/3 innings giving up 3 runs, and winning his 7th game in a 9 to 5 game against the Washington Nationals.

Akinori Iwamura with the Pittsburgh Pirates
Iwamura slammed his first home run on Apr 10. It's in the game against the Arizona Diamandbacks. His team won 6 to 3. But he did not perform much there after. He was let go, and joined the Oakland Athletics in September however was firmed after the season. After the season, he decided to leave the US and sign with the Rakuten Golden Eagles. And did so on Nov 16.

Kosuke Fukudome with the Chicago Cubs
On Apr 11, Kosuki Fukudome homered. And that helped his team beat the Cincinnatti Reds 4 to 3. He blasted his 2nd homer on Apr 23, and helped contribute to the Cubs 8 to 1 win over the Atlanta Braves.

Hiroki Kuroda with the Dodgers
Hiroki Kuroda started for the LA Dodgers on Apr 9. He gave up only 1 run in 7 innings. As his teammates hit in 4 runs in that inning, he earned his first win of the season. The game finish 7 to 3 against the Florida Marlins. On Aug 30, Kuroda pitched until the 7th inning without giving up a hit. But in the 8th inning, he lost a single. Still his team won against the Philadelphia Phillies and he earned his 10th win.

IN 2009
Tazawa pitches for the Red Sox
23 year old Junichi Tazawa who never played professionally in Japan was promoted to the major league level on Aug 7. His opportunity to pitch came quickly. It's against the NY Yankees on the day. However, in the 15th inning, he gave up a 2 run homer to Alex Rodriguez, and he was forced to take the loss. On Aug 11, he started. He had a bad start, giving up 3 runs already in the first inning. But the Red Sox breezed ahead, and Tazawa earned his first win in a 7 to 5 game against the Detroit Tigers.

Iwamura with the Rays
Akinori Iwamura was not doing well for the past 7 games until this game on May 18. In that game against the Oakland Athletics, he hit in 2 runs with bases loaded in the 3rd inning. He had an RBI hit in the 7th inning too to help his team win 13 to 4. But Iwamura's season seems to be over. On May 25, when he was covering 2nd base, the Marlins runner charged into his leg. His ligament was torn and he went on the disabled list.

Ken Takahashi's challenge at 40
Former Carp Ken Takahashi did not give up. On May 2, he was given a chance to pitch for the NY Mets. He hurled 2 2/3 innings and gave up only a hit. Although his team lost 5 to 6 to the Philadelphia Phillies, he contributed.

Kosuke Fukudome with the Chicago Cubs
Fukudome was not making the news until Apr 26. He was awesom. He had an RBI hit in the first and 4th inning. He slammed a 3 run home run in the 8th and helped his team beat the St Louis Cardinals 10 to 3. Fukudome made the news on Aug 14 with a 3 run home run. It's in the game against the Pittsburg Pirates which the Cubs won 17 to 2.

Kenshin Kawakami with the Braves
Kawakami started for the first time on Apr 11. He lost a run in the first inning, then a 2 run home run in the 3rd. But his team hit in more runs thereafter. He hurled 6 innings, and earned his first win in a 5 to 3 game against the Washington Nationals.

Koji Uehara with the Orioles
Uehara started for the Orioles 2nd game of the season. It's on Apr 8. He faced his former teammate Hideki Matsui, pitching against the NY Yankees. He kept Matsui quiet.But in the 4th inning, Uehara gave up a run. He finished 5 innings.His team won 7 to 5 and Uehara earned a win. On Apr 13, Uehara started and gave up runs after runs, accummulating to 7 runs lost in 5 innings. But still he earned a win in the 10 to 9 game against the Texas Rangers. On Apr 19, Uehara gave up 2 runs and lasted 7 innings. But his team was unable to hit much and he had to take the loss for a 1 to 2 game against the Boston Red Sox.

Kuroda with the Dodgers
Hiroki Kuroda was chosen to pitch the season opener for his team. He pitched on Apr 6, 5 2/3 innings giving up just a run. He won the game on his team's 4 to 1 victory over the San Diego Padres. It was only on Jun 23 Kuroda earned his 2nd win. He almost hurled over the distance but after taking 2 outs in the 9th inning, he lost a series of base hits, so had to give the mound away. Still the Dodgers won 5 to 2 over the Chicago White Sox.

Koji Uehara signs with the Orioles
The Giants former star pitcher Koji Uehara's 2 year contract with the Baltimore Orioles was confirmed on Jan 13. It's reported he will make 10 million dollars and depending on his performance, another 6 million. It's the first time a Japanese player joins the Orioles.

Kawakami joins the Braves
33-year old former Dragons ace pitcher Kenshin Kawakami held a news conference on Jan 13 he's signed with the Atlanta Braves. It's a 3 year contract. He's reported to signed for 23 million dollars. He will wear number 11 as he did with the Dragons.

IN 2008
Iwamura with the Rays
Akinori Iwamura with the Tampa Bay Rays slammed his first home run of the season on Apr 26. It was a game winning 2 run home run with which his team won 2 to 1 against the Boston Red Sox. Iwamura's contribution in the playoffs has especially been awesome. On Oct 2 he had 2 base hits. On Oct 4, he slammed a 2 run home run to help his team beat the Chicago White Sox. On Oct 6 his team beat the White Sox and advanced to the Championship Series for the first time. And a great feat by Iwamura and his team. He was a consistent hitter. He even hit himself on base in the final game of the Championship Series on Oct 19 which his team won 3 to 1 over the Red Sox and advance to the World Series for the first time.

Taguchi starts
On Apr 17 So Taguchi was on the starting line up for the Philadelphia Phillies for first time this season. He had 2 base hits. His team beat the Houston Astros 10 to 2.

Kuroda with the Dodgers
A former Carp Hiroki Kuroda one of the most closely watched Japanese players this season in MLB started for the first time on Apr 4. He pitched well, giving up only a run in 7 innings. The Dodgers beat the Pittsburgh Pirates 7 to 1. Kuroda clinched his first win already. On Apr 20, Kuroda lost only 2 runs in 6 innings, but h3 had to take his 2nd loss as his team lost 1 to 6 to the Atlanta Braves. On June 7, Kuroda won a shut out game he hurled over the distance for the very first time in the U.S. It was his 3rd win in a 3 to 0 game against the Chicago Cubs. On July 7, Kuroda pitched a perfect 7 inning. He gave up a 2 base hit in the 8th. But in the end he hurled over the distance and won his 5th game. The Dodgers won 3 to 0 over the Atlanta Braves. On Oct 4, Kuroda started in the playoffs. He pitched a shut out 6 1/3 innings and his team won 3 to 1 over the Chicago Cubs. Kuroda not only earned a win. With this victory his team advanced to the Champions series. On Oct 12 Kuroda started. He had some hot moments after he pitched over the head of the Philadelphia Phillies Shane Victorino. But Kuroda pitched 6 0/3 innings giving up 2 runs. His team won 7 to 2. It's the Dodgers first win in the series. But the Phillies in the end won the series.

Fukudome makes sensational debut
Former Chunichi Dragons slugger Kosuke Fukudome was 5th in the line-up of the Chicago Cubs on Mar 31. He had a 2 base hit in the 2nd inning. He singled in the 7th. And in the 9th, he blasted a equalizing 3 run home run off the Milwaukee Brewers Eric Gagnier. But in the 10th inning his team lost 3 to 4. On Apr 5, Fukudome showed he could field in the 6th inning. In the 7th he hit in 2 RBIs and his team beat the Houston Astros 9 to 7. On Apr 22, Fukudome recorded his 4th consecutive game hit with 3 base hit to help his team win 8 to 1 over the NY Mets. On May 1, Fukudome had 4 base hits but his team lost to the Milwaukee Brewers 3 to 4. For the first time on May 3, Fukudome was 4th in the line-up. It's a prestigious position as that means he's regarded as a slugger. And he proved himself with a base hit in the first inning and by hitting RBI doubles twice to give his team a 9 to 3 win over the St Louis Cardinals. On June 5, Fukudome homered in the 2nd innig. In the 9th inning, he faced the LA Dodger closer Takashi Saito. He hit off him an RBI hit to help his team win 5 to 4. On June 11, Fukudome's 3 run home run helped the Cubs beat the Atlanta Braves 7 to 2. He was chosen to be on the all star game and played on July 15, but during 2 times at bat, he failed to get himself on base. Fukudome has been taken out of the starting line-up. He pinched hit on Aug 24. And he proved himself with a 2 run home run. His team also beat the Washington Nationals 6 to 1. The next day he started. With bases full in the 5th inning, he hit in 2 runs. He had a 2 RBI hit too in the 9th inning, to help his team win 12 to 3 over the Pittsburgh Pirates.

Kuwata announces retirement
Japan's superstar Masumi Kuwata said he's decided to retire on Mar 26. This follows the Pittsburgh Pirates decision that they didn't need him. The 39 year old played part of the season for the Pirates last season but since was working on recovering from his injury.

Okajima wins opener
On Mar 25, in Tokyo, Daisuke Matsuzaka gave up 2 runs in the first inning including a homer by Mark Ellis. But he improved later and hurled in all 5 innings with the Red Sox ahead of the Oakland Athletics. However, taking over, Kyle Snyder gave up a 2 run homer to Jack Hannahan. Hideki Okajima pitched from the 9th inning. With the see-saw game was ended in the 10th inning, with Manny Ramirez's 2 run double, 6 to 5 game, Okajima clinched a win.

IN 2007
Okajima in the World Series
Hideki Okajima contributed greatly in game 2 of the World Series on Oct 25. He came on in the 6th inning and managed to pitch smoothly for 2 1/3 innings. And his team defeated the Colorado Rockies 2 to 1. On Oct 27, he was under fire. He gave up a 3 run home run. But the Red Sox managed to win 10 to 5. On Oct 28, in the 8th inning, he lost 2 runs. But in the end the Red Sox won 4 to 3 and clinched the World Series.

Saito is MVP
It was learned on Sept 8 that the L.A. Dodgers Takashi Saito had been chosen the most valuable relief pitcher for August. He's the first Japanese to be awarded in that position.

Okajima, Saito chosen to play All Stars
Along with Ichiro Suzuki of the Mariners who's a regular on the all star game, Takashi Saito of the L.A. Dodgers was chosen. Hideki Okajima of the Boston Red Sox was the last to be chosen via internet voting on July 5. It's the 2nd time ever that 3 Japanese players have been selected to the all star team.

Igawa is back with the Yankees
After more than a month in the minors, Kei Igawa started for the N.Y. Yankees on June 22. He was doing all right until the 5th inning, he got the bases full and walked S.F. Giants Barry Bonds. He was taken off the mound just short of 1 out to qualify for the win of the game. The Yankees in the end won 7 to 3. On Jul 16, Igawa started and gave up 3 runs in 5 innings. He left the game when the Yankees were behind. but his team in the end defeated the Toronto BlueJays. On Jul 21, Igawa started and suddenly suffered 2 home runs. But that was all he gave up until the 5th inning when he stepped down.At that point the Yankees had a draw with the Yankees. His team won in the end.

Kuwata with the Pirates
On June 14, Masumi Kuwata was given a 2nd chance to pitch. He came up to pitch in the 9th inning with his team way behind the Texas Rangers. He finished the inning smoothly. On June 21, Kuwata for the first time faced Ichiro Suzuki of the Seattle Mariners. He struck out the Japanese superstar. But the Pirates lost that game. ]

Kuwata with the Pirates
39 year old Masumi Kuwata who was initially expected to start the season with the Pittsburgh Pirates could not. He and the umpire during an exhibition game rammed into eachother. Kuwata fell and injured his leg. He trained hard in the minor level to recover, and on June 9, he was summoned to New York. On June 10, in the 5th inning, he faced the Yankees. In the 6th inning, he gave up a 2 run home run to Alex Rodriguez. In the end the Pirates lost 6 to 13. Michiyo's Note:
He was seen on TV falling into tears when he was told he'd wear number 18. The number he wore for 20 years with the Yomiuri Giants. Kuwata told reporters he was happy enough to pitch in the MLB. He didn't really think he could. You'll see a photo of Kuwata with me on the front cover of my website.

Taguchi with the Cards
So Taguchi started with the team on opening day on Apr 2. But he erred out in the field, and since did not have good days. On Apr 11, he had 3 base hits, and contributed to his team's 3 to 2 win over the Pittsburg Pirates.

Igawa's sour debut
Kei Igawa started for the New York Yankees for the first time on Apr 7. It was a nightmare. Already in the 1st inning he gave up a home run. He pitched 5 innings and lost in all 7 runs. However, the Yankees won in the end 10 to 7 over the Baltimore Orioles. Igawa's 2nd start was on Apr 13. This time he gave up only 3 base hits, but all translated to the Oakland Athletics to score. Igawa lasted 5 1/3 innings. He started for the 3rd time on Apr 18. This time he had some unlucky hits, and gave up 2 runs. But his teammates blasted in the 3rd inning. And Igawa celebrated his 1st win in the MLB in a 9 to 2 game against the Cleveland Indians, by pitching 6 innings. But on Apr 23, he was in a mess again and removed from the rotation. On Apr 28, there was an accident. Starter Jeff Karstens was injured in the first inning. Igawa was about to polish his nails when the accident happened. He immediately got ready and took over. He hurled a scoreless 6 inning, and he helped stop the Yankees losing streak at 7, to win his 2nd game. On May 4, Igawa returned as a starting pitcher. But he was in a mess. He gave up 8 runs in 4 0/3 innings. And his team lost 11 to 15 against the Seattle Mariners.

Okajima pitches on opening day
Hideki Okajima came on the mound to pitch for the Boston Red Sox in the 6th inning on Apr 2.But suddenly he gave up a homer. Thereafter, he pitched well and stayed on for 1 2/3 innings.His team however lost to the Kansas City Royals 1 to 7. On Apr 20 Okajima closed the game against the Yankees perfectly, and earned his first save. Okajima in fact pitched so well in Apr, he was chosen American League's rookie of the month. Thereafter Okajima pitched perfectly. But it was on May 22, this consecutive no runs lost record was ended at 19 games. On June 2, Okajima won his first game after his team took the lead from the Yankees and eventually won 11 to 6.

Iwamura in joy on debut day
On the first day of the season, Apr 2, Akinori Iwamura swiftly hit the ball to the outfield, marking his first base hit in the MLB. His team the Tampa Bay Devil Ray however lost to the New York Yankees 5 to 9. On Apr 5, he hit himself on base in the 6th inning, and in the 8th, he doubled, and came home on an error.His team beat the Yankees 7 to 6. He homered for the first time in MLB on Apr 6. His bunt in the 9th inning got himself on base too and he also came home to lift the Devil Rays to a 6 to 5 win over the Toronto BlueJays. On Apr 7, he stole base for the first time this season. It's after achieving a hit for 4 games in a row. But his team lost to the Toronto Blue Jays 5 to 8. On Apr 9 Iwamura batted in 2 runs in the 2nd inning. He stole to 2nd, and that move enabled him to reach 3rd base. In the 3rd, he caught a line drive. Howerver his team lost 4 to 8 to the Texas Rangers. On Apr 12, Iwamura had a base hit for the 9th straight game in a row from opening game, exceeding the record for a Japanese players in the MLB set by Hideki Matsui. His streak ended on Apr 13. On Apr 23, Iwamura he a single in the 3rd inning, a double in the 5th, and his team won 10 to 8 over the NY Yankees. However, after that game he was placed on the disabled list. Iwamura hit well on June 19, with a home run and 2 base hits.But his team lost to the Arizona Diamondbacks in the 10th inning. He continued to be in good shape the next day with a 2 base hit and hitting home a runner on a 3 base hit. But his team lost.

IN 2006
Igawa signs with Yankees
Former Hanshin Tigers ace pitcher Kei Igawa reached a deal with the New York Yankees for a 5 year,20 million contract. Former announcement to come on Dec 20.

Iwamura is a Devil Ray
Akinori Iwamura who was with the Yakult Swallows signed a 3 year contract for 7.7 million dollars.

Matsuzaka signs with Red Sox
On the day of the deadline, Japan's ace pitcher Daisuke Matsuzaka reached an agreement with the Boston Red Sox on Dec 14. What he seems to have pushed for most was support for his family--his wife and daughter so he could stay focused on baseball. He is estimated to have signed for 52 million dollar for a 6 year contract. His number is 18.

Okajima joins Red Sox
Hideki Okajima, a closer for the 2006 Japan Series champion, Nippon Ham Fighters joined the Boston Red Sox. He met reporters on Nov 31 to announce this. Okajima signed a 2 year contract for 2.5 million dollars. He will wear number 40.

Taguchi in the World Series
So Taguchi started in the World Series on Oct 21. He grounded the ball in the 3rd inning, but he managed to get the first base runner to 2nd. That runner eventually came home. In the 9th, Taguchi had a base hit. The Cardinals beat the Detroit Tigers 7 to 2. On Oct 26, Taguchi's bunt in the 2nd inning drew an error, which led to his team's RBI and a 4 to 3 win. On Oct 27, Taguchi had a base hit, and he came home too. His team won 4 to 2 and clinched the World Series.

Taguchi in playoffs
So Taguchi was the hero for the St. Louis Cardinals on Oct 13. In the 8th inning, he blasted a tie breaking home run off N.Y. Mets Billy Wagner. The Cards won 9 to 6. In the end, the Cards advanced to the World Series.

Saito contributes to playoffs
L.A. Dodgers Takashi Saitoh came up to pitch in the 9th inning on Sept 30. He closed the game hurling to just 3 hitters and won his 24th save in a 4 to 2 game against the S.F. Giants. With this victory, the Dodgers clinched a place in the playoffs.

Ohtsuka as a closer
Akinori Ohtsuka of the Texas Rangers was contributing as a closer. On June 2, he clinched his 10th save in a 3 to 4 game against the Chicago White Sox. In that game he struck out Tadahito Iguchi.

Taguchi in good shape
So Taguchi is on and off on the St Louis Cardinals starting line up. On Apr 24, he proved himself to be useful. He had 3 base hits, including 2 runs batted in. His team won 7 to 2 against the Pittsburg Pirates. On May 31, with bases loaded in the 11th inning, he slammed the ball to earn a game winning RBI. It was a 4 to 3 game against the Houston Astros. On June 26, he had 3 base hits including an RBI. But his team lost 3 to 10 against the Cleveland Indians.

Saito wins first game in MLB
Former Yokohama BayStars pitcher Takashi Saito who's joined the LA Dodgers this season won his first game on Apr 18. He came on the mound with the game tied in the 8th inning and finished the game. As his team clinched the game in the final inning he earned a win.

IN 2005
Jojima is first Japanese catcher to join MLB
On Nov 21, Kenji Jojima announced he has signed with the Seattle Mariners. It's a 3 year contract for 16.5 million dollars. The 29 year old award winning catcher had decided to become a free agent after his 10 years with the Fukuoka Daiei Hawks.

Taguchi maintains high level performance
On Aug 3, So Taguchi came up to bat as a pinch hitter in the 7th inning. He blasted a 3 run home run. And with that swing, the Cardinals beat the Florida Marline 6 to 9. On Aug 8, Taguchi was incredible in a 8 to 4 game against the Milwaukee Brewers. He had batted in hits at twice at bat, and showed good fielding in the 9th inning. Then on Aug 10, Taguchi was 3rd in the batting line-up and he hit in a run in the 1st inning on a squeeze. In the 7th, he singles and stole to 2nd. And the Cards won 3 to 0 against the Milwaukee Brewers. On Aug 16, he was magical. It all started from the first inning, where he hit himself on base. He marked 3 RBIs and 4 hits. His team beat the Tampa Bay Devil Rays 8 to 2. On Sept 8, Taguchi greeted the NY Mets, Kazuo Matsui. They used to play for the same league in Japan. Taguchi proved he was in better shape with 2 base hits, and one contributing to an RBI. The Cards on 5 to 0.

Taguchi homers twice
Taguchi has been playing well in June. On the 24th, he was incredible with a solo homer and a 2 run home run. His team defeated the Pittsburgh Pirates 8 to 1. The next day, he had 2 hits and an RBI and helped his team win 8 to 0, again over the Pirates. On Jul 5, Taguchi had an RBI hit and a home run. His team beat the St Louis Cardinal 7 to 1.

Taguchi starts his first 2005 game
On Apr 16, So Taguchi played 7th in the line-up at center field for the St Louis Cardinals against the Milwaukee Brewers. He had 2 base hits, including an RBI hit in the 7th inning, and helped his team win 7 to 3. On Apr 18, he had a great day pulling off 3 base hits, and the Cards winning 11 to 1 against the Pittsburgh Pirates. On Apr 21, in the game against the Houston Astros, Taguchi hit in runs to help his team win 8 to 7. On May 2, Taguchi started against the Cincinnatti Reds and slammed his 2nd homer of the year in the 3rd inning. His team won 10 to 9.

Nori promoted to Major level
Norihiro Nakamura who was since the exhibition games been trying to impress the L.A. Dodgers coaches with his homeruns started the season in the minors. But on Apr 10, he was promoted. And he came on as a pinch hitter in the 8th inning. He had a smooth base hit. The Dodgers lost 4 to 5 to the Diamondbacks though. On Apr 12, Nori started the game. He didn't know he was starting until the day. He played 3rd base. In the 2nd inning, he slammed the ball for a 2 base hit. The Dodgers beat the SF Giants 9 to 8.

Yabu makes his MLB debut
Keiichi Yabu who was formally with the Hanshin Tigers hurled for the Oakland Athletics for the first time. He was summoned to a tough job in the 4th inning.Bases were loaded and he had to pitch. He lost runs, but was unaccounted for. He pitched a perfect 7th inning, striking out all 3. In all he hurled 3 2/3 innings. But the win wen to the Tampa Bay DevilRays ushered by Hideo Nomo. It was 11 to 2.

Iguchi starts and Takatsu closes opening game
Tadahito Iguchi looked thrill to start the season in the starting line-up for the Chicago White Sox. He played on 2nd base and was 2nd in the line-up. He didn't have his first hit, but he was able to play well out in the field, completed a double play twice. Shingo Takatsu playing his 2nd season with the team closed the game and earned his first save. The White Sox beat the Cleveland Indians 1 to 0.

Iguchi joins the White Sox


IN 2004
In Chicago on Jan 27, Tadahito Iguchi, an infielder formerlly with the Daiei Hawks, announced that he's tied the knot with the Chicago White Sox. He's signed a 2 year contract worth 510 million yen. He will wear number 15, and will probably play 2nd baseman. Taguchi starts in World Series
The St Louis Cardinal played in the playoff, but So Taguchi did not get too many opportunities to play. But in the World Series which kicked off on Oct 23, he was in the starting line-up. In the 4th inning he grounded the ball to be called out at first, but a runner came home, so he won his first RBI. In the 6th, he hit himself on first. But the Cards lost to the Boston Red Sox 9 to 11.

Kida is a Mariner
Masao Kida, who pitched briefly for the LA Dodgers in August, was suddenly told on Sept 1 he is now with the Seattle Mariners. He immediately joined his new team. Kida had briefly played with Ichiro when he was with the Orix BlueWave. His first chance to pitch with the Mariners came on Sept 2. He hurled 3 1/3 inning without giving up a run.

Takatsu establishing himself as closer
Shingo Takatsu is very stable. On Aug 12 and 13, he earned saves in both games. Its his 10th and 11th. On Sept 2, he picked up his 6th win as the Chicago White Sox defeated the Oakland Athletics. On Sept 3, he faced Ichiro of the Seattle Mariners for the first time and was able to win over not only Ichiro, but over the team by earning his 15th save.

Tadano marks his first win
Kazuhito Tadano started for the first time for the Cleveland Indians. He had a great start striking out 3 in the first inning. He lost a run in the 2nd. In the 3rd, he hit himself on base for the very first time. He came home on Ronnie Belliard's home run. Tadano struck out 10 in all, and gave up only 2 runs in 7 innings. He clinched his first win in a game which his team won 15 to 2 over the Cincinnati Reds.

Takatsu celebrates first save
Shingo Takatsu has been pitching well most of the games. At last on June 12, he was given a chance as a relief pitcher in the final inning with the Chicago White Sox ahead by 2 runs. He closed the inning and the game smoothly to give the team a 10 to 8 win over the Atlanta Braves. Takatsu has recorded a total 260 saves in Japan, but this is very first in the US.
Then on June 15, he was on in the 10th inning with the White Sox taking the lead. He finished the game and the inning smoothly to earn his 2nd save. The White Sox won 7 to 5 over the Florida Marlins. At this point Takatsu's ERA was 1.11 On June 22, Takatsu was on in the 9th inning with the game a tie. He took all 3 batters out. In the 10th inning, he got runners on base but did not lost any RBIs. As the White Sox batted in a run that inning, it beat the Cleveland Indians 11 to 9. Takatsu earned his 4th win. On June 30, for the first time in 25 games, Takatsu gave up a run. Still his team won 9 to 6. Tragedy continued for Takatsu. On July 4, he gave up a run that led to the White Sox's 2 to 1 lost against the Chicago Cubs. Takatsu had to take his first loss.

Otsuka pins the Yankees
For the first time Akinori Otsuka of the San Diego Padres pitched against the NY Yankees on June 11. He pitched from the 8th inning.In the 9th inning, he faced Hideki Matsui. Matsui popped up a fly. Otsuka earned his 2nd save and his team won 10 to 2.

Otsuka wins 4th game
Akinori Otsuka continues to contribute to the San Diego Padres. On May 27, with the game a tie he was on in the 9th inning. His team clinched the game in the 10th inning, and Otsuka was given a win. The Padres won 4 to 3 against the Colorado Rockies and surged to first place.

Taguchi in best shape ever
The Cards Taguchi Soh hit himself on base 4 times and batted in 2 runs on May 20. He helped his team win 11 to 4 against the New York Mets. For the first time on June 9, he tripled. His team won too 12 to 4 against the Chicago Cubs.

Taguchi homers
On May 12, in the 4th inning, So Taguchi slammed a home run. He helped the St Louis Cardinals defeat the Atlanta Braves 5 to 2.

Takatsu earns first win
In the first game of a doubleheader on May 1, Shingo Takatsu picked up his first win. He pitched in the 10th inning with the game a tie. His team clincehd the game 4 to 3 over the Toronto Blue Jays. Takatsu also piched in the 2nd game and did not give up a run.

Otsuka wins first game
Akinori Otsuka of the San Diego Padres has been pitching well so far as a set upper. On Apr 24, he pitched the 8th inning with the game a tie against the Tampa Bay Devil Rays. He finished that inning,and then his team hit in a run. The Padres won 4 to 2, and Otsuka his first game. Then on Apr 26, Otsuka won his 2nd game. He pitched 2 inning from the 8th inning. In the 9th inning, his team clinched the game from the Montreal Expos 3 to 2. Then on Apr 30, Otsuka was on the mound in the 9th inning with his team taking a lead. He closed the inning and earned his first save. On May 8, Otsuka won his 3rd game against the Florida Marlins. After he pitched the game a tie in the 9th inning, the Padres in the 10th inning clinched the game 6 to 3.

Taguchi shines
St Louis Cardinals So Taguchi started this season's game for the 4th time on Apr 17. He performed the best so far. In the first inning, he got himself on base. In the 5th, he doubled, and his teammates followed to bat in 5 runs. In the 6th inning, he grounded to center, and stole base too. The Cards beat the Colorado Rockies 8 to 4.

Takatsu debuts
In the 9th inning Shingo Takatsu, formerly a Yakult Swallows closure came on the mound for the Boston White Sox for the first time on Apr 8. The first batter he faced with NY Yankees Hideki Matsui. Matsui doubled off him. And he gave up 2 RBIs in all. But as his team was way ahead, still won the game 3 to 9.

Otsuka disappoints in first game
Akinori Otsuka who joined the San Diego Padres through a posting system hurled for the first time in the Major Leagues on Apr 6. It's in the 8th inning with the game a tie. In the 9th inning, with a runner on 3rd, the Dodgers Robin Ventura hit the runner home, and Ohtsuka had to succumb to a loss in the 4 to 5 game.

IN 2003
Taguchi blasts 3 run homer
It's on Sept 28 in Bank One Ballpark in Phoenix, So Taguchi of St Louis Cardinals hit *another* home run - a 3-run homer in off lefthanded relief pitcher Denys Reyes - to make a 6-0 Cardinal lead a 9-0 Cardinal lead. This is 3 homers for Taguchi since September 12, and his 3rd in his last 13 at-bats. However, he's only had 4 hits overall in that span (which is still a .308 batting average)
(contributed by Jerry Modene)

Taguchi's best performance thus far
It was one of the biggest day for So Taguchi in the US on Sept 21. In the 4th inning with a runner on 3rd, he homered. Besides, he was great ou in the field throwing out Adam Everett who tried to take third base. Taguchi's contribution gave the St Louis Cardinals a 6 to 4 win against the Houston Astros.

Taguchi slams first MLB home run
On Sept 12, So Taguchi hit his first home run in the U.S. major leagues, a two-run homer at Minute Maid Park in Houston. J.D. Drew was on base when he hit it into the left field seats off relief pitcher Rick White. Unfortunately, the score was 14-2 in the top of the 7th inning when he hit it. The game ended 14-5. The St. Louis Post-Dispatch, meanwhile, reports that Taguchi will not be playing fall or winter ball this season as he did in 2002, when he played in the Arizona Fall League. He has one year remaining on the 3-year contract he signed with the Cardinals.
(contributed by Jerry Modene)

Taguchi contributes to Cards win
The bases were loaded in the 8th inning on Aug 19, and So Taguchi went up to bat. This was just a day after he was called up to the St Louis Cardinals again. He hit 2 runners home. The Cards beat the Pittsburgh Pirates 13 to 5.

Kida starts in the Majors
It was a big surprise for not only Masao Kida, but Japanese baseball fans. It's not only for being called up to pitch for the LA Dodgers from Triple-A Las Vegas since being injured in a car accident in Florida in March and missing the entire last season. He was told to start the game on Aug 15. It's the first time in the US Major League for him. He didn't too bad. He gave up 2 runs, all accredited to Chicago Cubs' Sammy Sosa. As his team lost 1 to 2, Kida had to take the loss.

Taguchi called up to Cards
On May 27, So Taguchi played left field and batted 8th on Tuesday night for the Cardinals after his recall from Memphis. He was intentionally walked in his first at-bat, and grounded into a double play his next time up before being replaced by Orlando Palmeiro. Taguchi has been with the Memphis Redbirds, the AAA team of the Cardinals,all season. He was the last player cut from the major-league roster at the end of spring training. He was hitting .254 in 39 games for Memphis, with 5 doubles, 4 stolen bases,and 10 RBI.
(by Jerry Modene in Tucson, Arizona)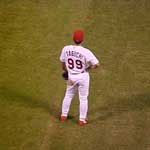 IN 2002
Taguchi's first RBI
On Sept 17, So Taguchi of the St Louis Cardinals achieved his 1st RBI in the majors with tiebreaking hit. He had one more hit. The Cards clinched the game 11 to 4 from the Colorado Rockies.
Taguchi marks first hit and more!
So Taguchi, who was recalled from the minor leagues on Sept 7 has gotten first U.S. major-league hit, a pinch-hit single off Chicago Cubs' lefthanded pitcher Steve Smyth. The hit came on a 2-2 count.
On Sept 10, the St. Louis Cardinals started So Taguchi in center field against the Milwaukee Brewers (to give Jim Edmonds a night off) and Taguchi responded with two hits! He also sacrificed and scored a run on a squeeze bunt by Miguel Cairo. So is now batting .375 (3 hits in 8 at-bats) for the season and is 3-for-4 since his recall from the minor leagues. For the record, the two hits came off lefthander Wayne Franklin and righthander Jose Cabrera.
(by Jerry Modene in Tucson, Arizona)
Taguchi promoted to Major Leagues
It was learned on June 10 in Japan that So Taguchi had been called to play with the St Louis Cardinals from the minor leagues. And he started the game that day against the Seattle Mariners led by his former teammate in Japan, Ichiro. Taguchi played center. With the bat, he could not perform unfortunately.
Komiyama faces loss
36 year old Satoru Komiyama pitched for the Mets the 2nd time this season and in the US on Apr 7. He was on the mound from the 10th inning. But he was there too when the game ended in the 14th inning. He gave up a 3 run homer to the Atlanta Braves. The game ended 2 to 5. For Komiyama it's his first loss.
IN 2001
Komiyama signs with Mets
Satoru Komiyama left the Yokohama BayStars to join the New York Mets. An agreement was reached on Dec 1. It's said that Mets skipper Bobby Valentine who headed the Lotte Marines in 1995 was eager to invite Komiyama who was also with the Marines at the time to come to New York. The wish finally materialized. However what shocked Komiyama was that Tsuyoshi Shinjo's trade to the SF Giants was announced on Dec 16, meaning he missed the chance to play with him. On Dec 18, Komiyama formerlly joined the Mets with Roberto Alomar and Cedeno.
Ooka wins again
On Aug. 18, Tomokazu Ooka did will. He lasted 7 innings and was yielded only 1 run by the Texas Rangers and collected his 2nd win. His team won 6 to 4.
Ooka's first win of the season
The Boston Red Sox started Tomokazu Ooka on Aug. 14 against the Texas Rangers. This time he hurled 5 2/3 innings yielding again only 2 runs, and was able to take his team to a 4 to 2 win. He clinched his first victory this season.
Ooka starts with Red Sox
On July 24, Tomokazu Ooka was given a chance to start for the Boston Red Sox for the first time this season. He pitched around 5 innings, and gave up 4 runs. The Minnisota Twins won 4 to 2 and Ooka had to take his first loss. Ooka, on July 28 was demoted back to triple A. Then Ooka was promoted again and started on Aug. 7. He gave up only 2 runs in 5 innings. Still he took his 2nd loss in the 1 to 4 game against the Anaheim Angels.
Ooka pitches perfect
Tomokazu Ooka who plays for the Boston Red Sox triple A team performed a wonderous pitch on June 1. He not only went a distance, he hurled 77 pitches to 27 batters and struck out 7. He pitched a perfect game of 2 to 0.
IN 2000
Japan's genius closure debuts in the US
Former BayStars' Kazuhiro Sasaki, Japan's top relief pitcher faced a new challenge-- as the reliable closure of the Seattle Mariners. On Apr.5, he pitched his first official Major League game. He seemed stiff, but with 6 runs ahead of the Red Sox in the 9th inning, it was not such a stressful debut. He lost a base hit but struck out the final batter. The Mariners won 9 to 3.
For more on Sasaki, go to SASAKI
IN 1999
Ooka clinches first win
On Oct. 1, Tomokazu Ooka came on as a relief pitcher for the Boston Red Sox. He pitched the final 3 innings without giving up any run. And he was able to pick up a win. His first in the US Major Leagues. The Red Sox defeated the Baltimore Orioles 6 to 1.
Ooka starts for the 2nd time
Tomokazu Ooka was given another chance to start. He hanged on for 4 2/3 innings during which he lost 7 runs to the Detroit Tigers. He had to take another loss for the game which ended 14 to 5.
Ooka is Japan's 9th major league player
It was reported by Tomokazu Ooka himself on July 17 that he has been promoted to major league ranks. Ohke played for the Yokohama BayStars for 5 years but was only able to win one game. He quit the team last season and gave it a shot in the US. He has so far won 11 straight games in the AA and AAA levels. Then already on July 19 he was appointed to start with the Boston Red Sox. He faced the Baltimore Orioles. But he just didn't have luck. His teammates played badly in the field, and that affected Ooka. He lost 5 runs in just 1 0/3 inning.
Kida earns his first save
On May 16, Kida hurled 3 innings against the Cleveland Indians. He lost only one run. As the Tigers successfully won with his help, Kida marked his first save in the U.S in the 17th game he's pitched.
Kida's debut a disappointment
On April 5, the day the U.S. Major League opened, Masao Kida welcomed his debut day too. But it was not a time of celebration for him. The Detroit Tigers were leading 11 to 1 over the Texas Rangers when Kida was called to pitch. It was in the 8th inning. Kida hurled salt around him like a sumo wrestler to purify himself before his first Major League challenge. The result was, he lost 2 base hits, walked 2 and 3 runs. His team though won 11 to 5.
IN 1998
Kida surprises in official Japanese outfit
Masao Kida appeared before the press on Dec. 9 in Detroit wearing a haori and a hakama. That's a black kimono top and a kind of a formal skirt. In that attire, he toured the stadium of his team. Kida is believed to have tied the knot with the Tigers for a 2 year contract of 3 million U.S. dollars.
Michiyo's Note: I bet the American press was not expecting Kida to be dressed as he did. It is reported that Kida who is very close to household comedian Sanman Akashiya had kept his promise with the star.
Kida to formalize talks with Detroit Tigers
It was learned on Nov.22 that pitcher Masao Kida of the Orix Blue Wave has decided to sign with the Detroit Tigers. 30-year old Kida had met with representatives of 5 Major League teams. In fact he was initially approached by 9. Kida is only the second Japanese after Masato Yoshii of the Mets to play in the Major Leagues after gaining a free agent status. Kida lead in strike outs in the Central League at 182 in 1990 when he was with the Tokyo Giants. He has not been in the starting rotation on a consistent basis during the past few years.
U.S. teams approach collegiate ace
N.Y. Mets Far East representative reported on Aug. 9 that the team is interested in signing with Koji Uehara,Japan's national team ace pitcher. 23-year old Uehara is currently a student of Osaka Physical Education University. Japanese pro teams, including the Giants, the Swallows, the Buffaloes are also after Uehara. If Uehara wishes to sign with the Mets he is not allowed to be drafted by Japanese teams this fall. Then on Aug. 12, it was disclosed that the Arizona Diamondbucks is also looking forward to obtain Uehara. The approach was finalized when Uehara was drafted by the Tokyo Giants on Nov. 20.
Unknown Japanese sign with the Phillies
2 amateur Japanese players, Masahiro Tanaka and Takehito(?)Ishida have signed a contract with the Philadelphia Phillies on June 16. That is as a result of taking tests which the Phillies held in Tokyo in April, and in Florida in May. 120 initially took part in the 1st test.
Mizuno pitches in exhibition game
32-year old Yuji Mizuno, who had retired from the Tokyo Giants more than a year ago, has been trying out for the Florida Marlins since late 1997. He was tested in an exhibition game against the San Diego Padres on Feb. 28. He pitched 2 innings,during which he was homered once but struck out 2 batters. His first try did not turn out to be too bad. Mizuno was famous since his high school days as the ace pitcher of Ikeda High School in Tokushima Prefecture. He won the national championship then. He was a top favorite for the post of ace pitcher of the Giants, but did not quite make that level.
Matsunaga in the US
A Feb.19, 1998 contribution from Eric Bohman
From the Major League camps, long-time stand-out Hiromi Matsunaga is trying out for the Oakland Athletics. Matsunaga (37) has a career batting average of .293 in his 17 years playing third base for Hankyu-Orix, Hanshin, and most recently Daiei. Matsunaga was so dedicated to this that he paid his own way out to Arizona to try out. The Athletics General Manager, Billy Beane, was quoted as saying that he didn't think Matsunaga had a shot, but "the fact that he has competed at a high level, you never know."
IN 1997
A school teacher signs
The SF Giants tied a minor league contract with Masashi Kiyono on Dec. 18. Kiyono, a schoolteacher in Kanagawa Prefecture tried out for the SF Giants tests on Dec. 3 and 4, held under the supervision of Japan's first Major League player Masanori Murakami. Kiyono hurled a 144 kilo speed ball. This caught the attention of the scouts.
More up and coming Japanese join US teams
On Nov. 30, high school student Kenichiro Kawabata had signed with the minor level of the Boston Red Sox. Kawabata goes to Tenri High School. It's the school that won the 1997 spring high school baseball tournament. He was the team's outfielder, 7th on the line-up. As of Dec. 2, the same team took action to acquire Bay Stars' Tomokazu Ohka. Ohka has not pitched in the Japanese major league level in the 97 season. The Red Sox hopes that he will play a role similar to Takeshi Kashiwada who was with the New York Mets for just one season.
First high school student scouted by US teams
The New York Mets have tied a deal with Juei Ushiromatsu of Omagari Kogyo High School. The action was disclosed on Nov. 26. Ushiromatsu was left out of the draft meeting on Nov. 21, and after that the 183 cm. tall pitcher was officially scouted. He has recorded 18 strike outs in 2 games. It's the first time that a Japanese had been scouted by a US team. Other US Major League scouts are approaching Japanese high school students.
Maeda fails the Major League
Katsuhiro Maeda has been joining the New York Yankees' spring camp. However, he has not pitched at all well in the practice games, and already on Mar.5, he was transferred to train with the minor team. There is no hope for him to start the season in the big leagues.
IN 1996
Pitcher Takayasu Kato
Kato, a former Lotte Marines pitcher, has disclosed to the press of Oct.4 that he's signed a contract with the minor league team of the Cincinnati Reds. 27-year old Kato will have his left knee operated in LA first and give it a try in US baseball. He has been playing professionally since 1994, but has been released from the Marines after the '95 season.
Pitcher Katsuhiro Maeda
A former Seibu Lions pitcher, Katsuhiro Maeda has been promoted to the AA level of the Yankees on July 8 after pitching 5 and 2/3 innings against the Cardinals A level team.
24 year-old Maeda has become a member of the New York Yankees on May 16. He was traded from the Seibu Lions. It was not a peaceful move though. At the end of the '95 season, Maeda totally refused to sign again with the Lions. He'd agree to comply only if they'd trade him to a U.S. Major League team.
Michiyo's Note: I doubt though if he is worth the money the Yankees are rumored to have agreed to. He does have speed but not the control. He's no comparison to Nomo who's won a number of pitching titles while he played in Japan. Does anyone think Maeda looks American with his orange dyed hairdo?! He at least seems to think so.
Pitcher Mac Suzuki
Japanese pitcher, Mac Suzuki has been promoted to the major league level of the Seattle Mariners on July 4. He made his big league debut on the 7th in the game against the Texas Rangers. He pitched in the 6th and 7th inning with the Mariners behind the Rangers 0 to 5. The 6th inning went well. However, he left the 7th inning with all bases loaded and taking only one out.
Michiyo's Note:21-year old Mac has had no pro experience in Japan. He's been in the States since '93 dreaming one day to play in the big league. hope he gets another chance.
Kinugasa's world record is broken
Japan's ironman, Sachio Kinugasa who was formerly with the Hiroshima Carp toured to 3 U.S. cities from June 11 to attend the games of the Baltimore Orioles. He was asked to be the guest of honor to celebrate Cal Ripken Jr.'s consecutive game appearance record. Ripken broke the world record on June 14. It was held before by Kinugasa at 2215 straight games. On that celebrated day, an iron battery was realized. Kinugasa pitched to Ripken in the opening ceremony. This was kind of weird because Kinugasa isn't a pitcher, neither is Ripken a catcher. Anyway, after the 5th inning there were fireworks to officially signal that Ripken has set a new world record.
Michiyo's Note: One disappointing rumor I've been hearing about the record setting game was that it wasn't as elaborately promoted or celebrated as when Ripken broke Lou Gehrig's record last year. I guess Japanese baseball records don't mean much to the Americans even though its a world record.

Go to BASEBALL INDEX