IN ICE HOCKEY
Modified on October 1,2000.

Snow Brand begins last season
On Oct. 1, Yukijirushi or Snow Brand kicked off to its final season in the ice hockey league. It's learned that the club will be closed on Sept 26. It's been affected by the company's food poisoning case this summer which has placed its business in deep trouble. Snow Brand founded its ice hockey team in 1979.

IN 1999
Furukawa alias Nikko Backs in the league
Nikko Backs, the newly transformed team formerly known as Furukawa Denko made its debut on Oct. 16. It opened the season by facing Kokudo, but lost 1 to 4. The team is now a club team of Nikko-city in Tochigi Prefecture. Some of its sponsors are the Nikko monkey troup, as very tourist attraction group. Another is a sushi chain. All Nippon Airways sponsors the team's flights.

Furukawa may be saved from closing
One of Japan's indispensible teams in the ice hockey league, Furukawa Denko announced earlier in Jan. that the club will be closed after the end of the season due to financial difficulties. However, on Jan. 16, chairman of the association, millionaire Yoshiaki Tsutsumi asked for local and any other support so that the team can be sustained. Furukawa has been in the 33 year old league since the very beginning.

IN 1998
GAME ONe'98 Japan: San Jose Sharks vs Calgary Flames
The Sharks and the Flames held their ice hockey opener at the Yoyogi Arena. It's the second year in a row that NHL teams begin the season in Tokyo. One of the up and coming players was Valery Bure, younger brother of Canucks' Pavel Bure. The first game on Oct.10 was played overtime. Still, it ended a 3 to 3 tie. On Oct. 11, the Flames defeated the Sharks 5 to 3.
Michiyo's Note: This year's game did not attract as much attention as last year's did. The reason appeared to be that neither teams brought with them superstars. There were only 8400 attending the first game. It appears unlikely that the NHL opener will be held for the 3rd time according to its vice-president.

Japan wins berth to 1999 World Championships
The national team, for the first time played under new manager Steven Ken Tsujiura in the Asian Cup tournament held from Sept. 4 to 6 in Higashifumi Ice Arena in Tokyo. Japan defeated China to a whooping 15 to 2, and S. Korea 9 to 2. These victories automatically qualified Japan to take part in the Pool A World Championships in May 1999 in Norway. Pool A includes world ranking number 1 Sweden and Olympic champion the Czech Republic or 16 teams in all. 36-year old Tsujiura is a Canadian born Japanese. He assumed the post on Aug. 24.
Michiyo's Note: On the right is Steve whom I got to meet on Sept. 10. He is a resident of Maine in the U.S., and is travelling back and forth. His real challenge will start after Christmas when he will select the national team players for the World Championships. He is still unable to communicate in Japanese, so he has an interpreter helping him out. But his grandparents came from Kita Kyushu and Kanagawa.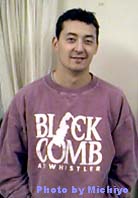 All Canadian stars become Japanese
To start with, 4 Canadian who are playing in Japan's ice hockey league have successfully earned Japanese citizenship. The Japanese government disclosed the news Dec.4. They are Dustin Imoo, MVP of the 1994-95 season, 95-96 MVP Mathew Kabayama, 2-time top scorer Ryan Fujita, and Steven Tsujiura who was the 94-95 season Best 6. This movement was looked forward to so that these great players could join the Japanese national team at the Nagano Olympic Winter Games. All of them came to Japan 3 years ago. There has only been one Japanese-Canadian before them who had been granted Japanese nationality to play for the Japanese team. Osamu Wakabayashi played at the 1972 Sapporo Olympic Winter Games. The remaining 2 of 3 Canadian ice hockey player was learned to have gained Japanese nationality on Dec. 12. They are Ryan Kuwabara and Chris Yule who both play for Kokudo. The last one, Daniel Daikawa of Seibu Railways was approved on Dec. 15.
Michiyo's Note: I met Dustin Imoo on Jan. 23, 1998 just a day before he and the national team were leaving for Nagano. He said he'll be giving the best he can at the Winter Olympics and as a result, hopes to attract the younger generation to the sports. He had a cold that day, so I hope he'll recover soon and get back in shape!
IN 1997
GAME ONe'97 Japan: Mighty Ducks of Anaheim vs Vancouver Canucks
The 81st National Hockey League held one of its opening games for the first time outside North America. Games took place on Oct. 4, 5 at Tokyo's Yoyogi Arena. Mark Messier, 6-time Stanley Cup winner, made his first appearance as the player of the Canucks. Japanese fans were somewhat disappointed with the roster, because Paul Kariya missed out. Kariya has a Japanese father. He could not reach an agreement with his team, therefore, did not join the Anaheim for the opener. Still, the gymnasium was packed with 10,500 excited crowd for the fast, highly technical, and violent sport. Ice hockey is not big in Japan, but these games are hoped to make an impact in preparation for the Nagano Winter Olympic Games where NHL players will take part with their various national teams.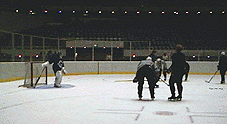 This is the photo I took during the Canucks practice.
Oct.4: Canucks win 3 to 2
Oct.5: Mighty Ducks win 3 to 2