In Rugby
Last modified on October 12, 2015

World Cup in England
Pool B: vs U.S.A
Before the start of the game, Japan's possibility to advance to the knock out stage vanished. It's because Scotland defeated Samoa. But despite that, Japan fought aggressively on Aug 12. For the first time 22 year old university student Yoshikazu Fujita started in the game and scored a try. Mafi did too. Ayumu Goromaru handled his kick well. The Brave Blossoms won 28 to 8. It's the first time that a team that won 3 games failed to advance to the top 8. But Japan has a great plan ahead as it will host the 2019 World Cup Rugby.

Pool B: vs Samoa
Japan's players were focused. The first half went well with a try and Ayumu Goromaru's successful goal kicks. In the later half, Samoa achieved its one and only try. In the end Japan won 26 to 5. It's the first time Japan wins 2 games at any World Cup Rugby.

Pool B: vs Scotland
Japan was doing pretty well in the first half. But the 2nd half was a disaster. It appeared they had totally lost focus and finished the game 6-46.

Pool B: vs South Africa
On Sept 19, at the Brighton Community Stadium, Japan had a good start with Ayumu Goromaru kicking in a goal in the 8th minute. The South Africa team then achieved a try and succeeded in a goal kick. Both sides went back and forth to score. The Japan team is made up of Tongans, New Zealanders who have lived in Japan for more than 3 years. During injury time, substitute, Karne Hesketh from New Zealand scored to beat South Africa 34 to 32 It's the first World Cup victory for Japan in 24 years.

IN 2003
World Cup in Australia
*vs Fiji
In the 29th minute, Japan with a try was just 3 points behind Fiji in the match on Oct 23, 2003. But the final result was 13 to 41. And the result has confirmed that Japan will not advance to the next round.

*vs France
Japan had a good start with a penalty kick and scoring first on Oct 18. But the French side achieved 2 tries in a row. In the later half, Japan got so close to France, there was only one point between them. But in the end, it was a devastating defeat of 51 to 29.

*vs Scotland
Japan played its first game on Oct 12 in group B. Scotland tried first, but Japan had its first try in the 15th minute. The first half ended 6 to 15. Then 15 minutes into the later half, Japan managed to score on a try and come just 4 points behind Scotland. However, the Scottish side scored a series of try to beat Japan in the end 32 to 11.

NEC clinches national title
For the first time, NEC achieved a feat. It was on Feb 23 at the final of the 40th national championship. It was behind Suntory by 9 points but overturned the match. The match finished 36 to 26. NEC's rugby team was formed 18 years ago.

IN 2002
World Cup Asia Preliminaries
*vs Taiwan
It was a record breaker on July 6 at Tokyo's National Stadium. Japan won 155 to 3--the most tries scored in one game. Daisuke Ohata alone completed 8 tries.

*vs South Korea
While all eyes are on the FIFA World Cup, the Asian preliminaries for rugby's World Cup for Japan kicked off at Tokyo's National Stadium on June 16. Japan overwhelmed South Korea 90 to 24. It was a good start for Japan which is aiming to achieve to win the World Cup berth for the 5th time in a row.

*vs South Korea
On July 14, the match was played in Seoul. Japan defeated South Korea 55 to 17 to clinch its World Cup berth for the 5th consecutive time.

*vs Taiwan
In Tainan, Taiwan, Japan played on July 21 it overwhelmed Taiwan 120 to 3.

Suntory clinched national title
It was again Suntory and Kobe Steel playing in the final game for the national championship on Feb 3. They came very close to eachother, so close that a try could reverse the game during injury time. But Suntory secured a larger lead just a minute or 2 before the no-side whistle was blown. It defeated Kobe Steel 28 to 17.

IN 2001
Suntory vs Wales
It's been 26 years since the Wales team played in Japan. And a Japanese team has never been able to defeat the team. That seemed to be the way the game was proceeding on June 3. The first half finished 24 to 10. But then, with only 4 minutes left, and Wales leading 3 points, Suntory achieved a try. The game was a big upset. Suntory won 45 to 41.

Japan titled share
The finalists in the national championship, Kobe Steel and Suntory finished the game a tie 27 to 27. It attracted 28,000 at Tokyo's National Stadium on Feb 25.

IN 2000
Epson Cup Pacific Rim
*vs. Fiji on May 20
Japan loses 22 to 47.
*vs.US on May 27
Japan's captain got injured and left the game. That was a blow for Japan which lost 21 to 36.
*vs.Tonga on June 3
Tonga is regarded as along the same playing level as Japan. Japan indeed had a great start, and it appeared that it would easily win. But an erroneous play spoiled everything. Japan lost 25 to 16.

McCormick quits
Kiwi player Andrew McCormick officially announced his career as a player is over. He spoke at Toshiba Fuchu's club in Tokyo on Feb. 8. 33-year old McCormick became the Japanese national team's first foreign captain. He played in 25 international matches. He joined Toshiba Fuchu from 1992, became its team captain from 1994 for 4 seasons, and took the team to championship victory 3 times in a row. It was also disclosed that he will become head coach of his corporate team.

Keio celebrates centennial as number one
Keio University which once boasted as the top collegiate team was back in the collegiate final on Jan.15. It faced last year's winner Kanto Gakuin University. The game was competitive. But in the end, Keio won 27 to 7. The players were so elated they most were sobbing out loud. It's been 14 years since the team's last title. Keio clinched the championship the season celebrating rugby's 100th year in Japan. In fact, it was Keio that first played the game in Japan.

IN 1999
4th World Cup in Wales: Japan in Group D
*vs. Samoa on Oct. 3
Japan was the first to score with a penalty kick. But the game was a real disappointment, The team could not even achieve one try and lost the game 9 to 43.
*vs. Wales on Oct. 9
Japan first try in this World Cup came in the 14th minute. Daisuke Ohata did it. But gradually Wales drifted ahead winning 64 to 15 over Japan.
*vs. Argentina on Oct. 17
Japan lost 12 to 33. (This news was updated by Michiyo's assistant.)

Japan's first pro player announced
31 year-old Wataru Murata who's been playing for Tochiba Fuch's corporate team since 1990 has officialy disclosed on July 5 that he will play for a French club team from Dec making him the first Japanese rugby player ever to play professionally. His contract will last until June 2001. Murata has been a national player since Apr. 1991.

Toshiba is national champion for the third time
The final of the Japan championship took place on Feb. 28 at Tokyo's National Stadium. Former powerhouse Kobe Steel took the lead with a penalty goal. Then Toshiba Fuchu surprised everybody with their's. That's because they've stuck to their policy of going for a try during this season. Then it was with a penalty try that Toshiba went ahead. In the end Toshiba won 24 to 13. It's their 3rd straight championship victory.

Collegiate teams falter against corporate teams in championship
The Japan championship introduced a new format this year, and took off on February 13. Top 3 teams of the collegiate and corporate clubs are matched against eachother. All collegiate teams lost in the first round. This year's collegiate champ, Kanto Gakuin University lost to Toshiba 27 to 92. Even worse, Meiji University finished scoreless to Kobe Steel's 108 points.

Kangaku is collegiate champion
For the 2nd year in a row, Kanto Gakuin University clinched the collegiate title on Jan. 15. The game went on like a see saw between them and Meiji University for a while. Both sides, completed tries. It was after the 26th minute into the later half of the game that Kangaku blasted 3 tries in a row and furthered their lead. As a result, Kangaku won 47 to 28. It's the school's 2nd championship win.

IN 1998
4th World Cup in Wales--Asian Qualifying Tournament
*vs. Hong Kong on Oct. 31
In the 5th minute of the game, Terunori Masuho scored Japan's first try. That play got Japan going, and as a consequence defeated Hong Kong 47 to 7. Japan not only won the title of Asian champion, but also qualified to the World Cup Rugby for the 4th time in a row.
Michiyo's Note: One personal disappointment with regard to the Asian qualifying round was that none of the games were covered in its entirety on the day by a major Japanese TV station.
*vs. Taiwan on Oct. 27
Taiwan was the first to score with a penalty kick. But already in the 5th minute, Terunori Masuho ran for Japan's first try. In just the first half of the game, Japan had score 70 points. In the end, Terunori Masuho alone had 5 successful tries. Japan overwhelmed the Taiwanese team with the 3rd highest score marked in the World Cup qualifying round winning 134 to 6. For Japan, it's the highest score ever marked in a test match.
*vs. South Korea on Oct. 24
The Asia Championship is played also as the Asian qualifier for the World Cup. The first game kicked off at 9 p.m. in Singapore's National Stadium. Japan faced its longtime rival South Korea. The Koreans were the first to take the lead. However, Japan's Kiwi Captain Andrew McCormick tackled effectively towards the end of the first half of the game. That led to great passes for Japan, and Terunori Masuho completed Japan's first try. Japan was able to play under its pace during the later half that it did not allow S.Korea to score at all. Japan won 40 to 12.
Michiyo's Note: Andrew McCormick regularly plays for corporate team of Toshiba Fuchu. According to the President of the Japan Rugby Football Union Shiggy Konno, he is a very good captain. He can communicate with the players in fluent Japanese, and his outgoing leadership gets the players moving. They were all proven in this game.

Japan vs. Argentina test match
Who would have imagined Japan would play so well against world number 7 ranking Argentina. Japan, as a matter of fact, defeated the South Americans 44 to 29 on Sept. 15 in Tokyo's Prince Chichibu Memorial Stadium. Scrum half Wataru Murata placed the ball well with 7 successful goal kicks. Japan's captain Andrew McCormick achieved the team's 4th try. It's in fact, Japan's first victory against Argentina. The 2 teams played 2 matches in 1993, but at that time, the All Japan team lost both games.

Japan Sevens
April 18 and 19 in Tokyo's Prince Chichibu Memorial Stadium.
| International Division | Domestic Division |
| --- | --- |
| Fiji, New Zealand, Australia, Canada | corporate teams |
| Hong Kong, Japan, South Korea, | Toshiba, Toyoda, NEC, Suntory, Sanyo, Kobe Steel |
| Western Samoa, Tonga | collegiate teams |
| USA, President's VII | Kanto, Meiji, Nihon, Kyoto Industrial, Oxford, Cambridge |
Japan England Collegiate Rugby

| | | |
| --- | --- | --- |
| Apr.5 | Cambridge University vs Kansai Gakuin University | Oxford University vs Waseda University |
| Apr.11 | Cambridge University vs Doshisha University | Oxford University vs Meiji University |
The first day of the games was held in the newly opened International Stadium Yokohama-- Japan's largest outdoor sporting facility. There were just over 15,000 spectators. At one point, Kansai Gakuin was ahead, but Cambridge soon cruised forward and defeated last year's Japanese collegiate champion 43 to 23. Former Kansai Gakuin captain, Takuro Miuchi played as a member of Oxford. He was able to help Oxford complete one try. Oxford had a whooping victory over All Waseda-- 57 to 12. On Apr. 11, Doshisha University completed the first try of the game, but Oxford easily took the lead soon after and finished the game 17 to 43. The game between Meiji and Cambridge Universities was a exciting one. Just a few minutes before the end of the first half of the game, Meiji was taking the lead. Meiji's number 11, Yoshihito Yoshida who is currently a star player with corporate team Isetan had successful tries and blocked great big players well. The result of the game was 38 to 26 for Cambridge.
Michiyo's Note: Yoshida certainly showed his stuff! The Meiji game was worth watching.

Overall rugby champ is Toshiba
Toshiba Fuchu, which became the national champion in 1997, won the new form of championship this year. In the final held on Feb. 1, they defeated corporate number 3 team Toyota Motors 35 to 11. The university teams, Meiji and Kanto Gakuin both lost in the 1st round of the championship tournament.

First tournament style rugby championship rescheduled
The heavy snow in Tokyo on Jan. 15 made it impossible for the Japan championship which has changed its format to be kicked off on Jan. 15. The schedule has changed as follows.
Jan. 17
collegiate champion vs corporate team 3rd place
collegiate vs corporate semi-finalists
Jan. 25
winners of the above matches play eachother
Feb. 1
the winner vs corporate champion
Upset in collegiate championship
10 time collegiate champion, Meiji University forwards could not shove their opponent with the force they were traditionally known for at the crucial moment on Jan. 10. For the first time ever, Kanto Gakuin University was the one to clinch the collegiate title this season. In the first half of the game, Kanto Gakuin achieved 2 tries while Meiji couldn't make any and led 20 to 9. Meiji closed in during the later half. However, just before the final whistle, Kanto Gakuin came into the goal with the ball to add 5 more points. The game ended 30 to 17 for Kanto Gakuin.
Michiyo's Note: Although the game was a hot one, the stands of Tokyo's National Stadium were not. Only 28,000 have been counted. The capacity of the stadium is 60,000. Maybe fans avoided coming because of the cold weather following the heavy snow in Tokyo. I'd hate to think that Kanto Gakuin was the cause, not being one of the popular Japanese universities.
IN 1997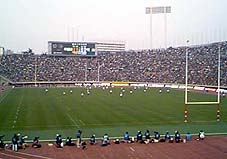 Waseda vs. Meiji
The most popular rugby match in Japan took place on Dec.7, 1997 at Tokyo's National Stadium. The collegiate game of the Kanto taiko competition attracted a roaring crowd of 57,000 on a mild winter day. Waseda and Meiji could only score with penalty kicks in the 1st half of the game. Immediately after the 2nd half of the game kicked off, Meiji scored their first try. Then Waseda immediately succeeded in scoring theirs. In the end, Meiji proved to be superior, winning 27 to 21.
Michiyo's Note: This was a great game to attend. The weather was wonderful, and the game was so competitive. What especially stood out was the school spirit among alumni and students of Meiji University. They'd cheer waving their blue and white stripped banners and sing the alma mater. It was really no surprise that Meiji had won, because during the past 7 years or so, they have been better than Waseda. However, overall, Meiji has 32 wins against 39 losses and 2 ties to Waseda.
Japan championship to be continued
The Japan Rugby Footfall Union announced on July 23, that they will hold a corporate vs collegiate championship afterall. The format will be changed though.

Jan. 15
collegiate champion vs corporate team 3rd place
collegiate vs corporate semi-finalists
Jan. 18
winners of the above matches play eachother
Jan. 25
the winner vs corporate champion
First victory for Hirao
The All Japan team faced the Canadian national team at the Prince Chichibu Memorial Rugby Ground on May 18. This was one of the games in the 2nd Pacific Rim championship competed by 4 nations in a round robin style tournament. Japan finished the first half of the game taking the lead by just 1 point. Japan was the first to succeed in scoring a try in the later half. The game proceeded with each team scoring. With 4 minutes left, Japan led 27 to 23. Then, Canada tried and kicked in a goal and surpassed Japan 31 to 27. By then the game was already into injury time. Most people in the stands must've thought that was it. But Wataru Murata ran out from the ruck with the ball and reached the corner of the touchline. He gave Japan a dramatic victory of 32 to 31. The result was a big shock to Canada. The team has not lost to Japan for 11 years. Seiji Hirao who is still Japan's rugby star, earned his first victory as the national team's manager. His debut game on May 3 resulted in a 30 to 42 defeat against Hong Kong.
Japan Rugby Football Union grants new broadcaster rights
The Japan Rugby Football Union has agreed to sell exclusive broadcast rights of domestic games to Japan Sky Broadcasting, a digital satellite broadcast service. This was made known at the news conference on May 13 announcing TV venture plans. The contract fee was not disclosed. The TV stations that have regularly been broadcasting major Japanese rugby games will still be showing them. JSky B is planning to start services in April 1998.
5th Japan Sevens (April 12 and 13)
The annual seven aside tournament was held at Tokyo's Prince Chichibu Memorial Rugby Ground. It was divided into a domestic competition between 8 Japanese corporate teams and the international tournament between 12 teams. The Japan Sevens title went to Fiji for the 3rd straight time. The Fijians defeated the New Zealand select in the final 54 to 19. Earlier in the day, Fiji won a perfect victory from Japan in the semi-final 54 to 0. Japan placed 3rd.
Michiyo's Note: On the right is a photo of me at the Japan Sevens. This was the first title sponsored rugby game in Japan. The game may act as a break through for Japan's "amateur" rugby scene.
Collegiate vs corporate championship will be dropped
The Japan Rugby Football Union decided that they will no longer hold the national championship that's been going on for 34 years. This decision was officially made on Mar. 7, 1997. It makes perfect sense, because the game has been one-sided in recent years. The company champion has been defeating the university side 9 straight years. One of the most disgusting games was in 1995 win Kobe Steel outlashed Daito Bunka University, 102 to 14. To make up for this popular championship which constantly attracts 50,000 spectators, the Union is hoping to come up with another form of a national championship.
New All Japan manager is Hirao
One of the best rugby player ever in Japan, Seiji Hirao dubbed "Mr. Rugby" was officially chosen to lead the All Japan rugby team on Feb.18 1997. Hirao, at 34, became the youngest ever national team manager. It is hoped that Hirao will help boost the performance of Japan's rugby team and win back rugby fans. Since he knows well that people tend to go after him, he warned the press on Feb.19 that he is now going to play a role in the backstage, so as not to make news features on him anymore. Hirao is at the moment, Kobe Steel's general manager.
Meiji University team manager stirs scandal
It has been leaked on Feb.13 1997, that the manager of the best collegiate team is suspicious of fraud. Meiji University has been accumulating savings from ticket sales of their successful rugby games. However, their account has not been carefully looked after. It is believed that Hiroshi Teranishi, who took over the honorable Chuji Kitajima's post after his death last May took advantage of this situation. Also, because Kitajima has been ill for a long time, Teranishi, meanwhile used the great manager's name to issue false receipts. He spoke to the press on Feb.19 that he had not taken 300 million yen for personal use.
1997 Japan Championship
The collegiate and corporate champions met on Feb.11 at Tokyo's National Stadium to decide the best rugby team in Japan. However, the collegiate champion, Meiji University was of no match for Toshiba Fuchu. Toshiba already led the game 52 to 3 by the end of the first half of the game. Meiji was able to achieve only one try in the end. The result was a 69 to 8. For the 9th straight year, the collegiate team faced a devastating defeat. Officials of the Japan Rugby Football Union will now have to seriously consider a different form of a national championship, rather than matching the corporate champion against an all student team. It's quite obvious that the company team has much more experienced players.
96-97 Rugby Season
The season kicked off on Sept. 7.

| University | Company |
| --- | --- |
| Dec.14 to Jan.15 | Dec.14 to Feb.2 |
Record holding skipper dies
The man with the longest managing career, Chuji Kitajima of Meiji University rugby team passed away May 28, 1996 due to respiratory failure. He was 95. He is listed in the Guinness Book of World Records for managing a team longer than anybody--that's for 67 years. Kitajima has won a number of awards for his contribution to popularize rugby. Meiji University has won the collegiate championship 11 times since 1973.