BASEBALL STARS
Last modified March 29, 2008
ETERNAL HEROES
Noboru Aota
A baseball star of the 40s. He was the homerun king 5 times, batted in the most runs twice, and won the leading hitter once. He entered the Giants in 1944, went into miliary service, then played for Hankyu, the predecessor of today's Blue Wave. He was back with the Giants from 1948 and contributed to the team's second golden era. Aota coached various teams after his retirement in 1959, but proved to be more popular as a TV and radio commentator. He died Nov.4, 1997 from heart failure.
Takehiko Bessho
Born Oct. 1, 1922. He won a total 310 games. Selected MVP twice. Impressed the fans as a high school baseball pitcher in 1941. He pitched with a broken arm. He joined Nankai (today's Daiei) the following year, and in 1943 recorded a no hitter game. In 1949 the Giants took him away from Nankai. It was a controversial issue at the time. Bessho was suspended from playing for 2 months. He holds the most win among Giants' pitcher winning 221 games since shifting over to the team. Overall, he played professionally for 17 years. He was entered into the baseball hall of fame in 1979. His final years were spent as an energetic, gunwhole baseball commentator, always taking sides with the Giants. He died from heart failure on June 24, 1999.
Kaoru Betto
A collegiate star and dubbed "gentleman of baseball" he made his pro debut with the Tigers in 1948. He clinched the first Pacific League MVP title in 1950. He later skippered 4 teams--Mainichi, Taiyo, Kintetsu and Hiroshima, and retired from the baseball scene in 1979. He was entered into the Japanese hall of fame in 1988. He died from heart failure on Apr. 16, 1999 at 78.
Hideo Fujimoto
Born May 10, 1918. One of Japan's greatest pitcher ever. He holds the best ever ERA in the history of Japanese baseball. It's 1.90. Was the first ever player in Japan to hurl a perfect game which was in June 28, 1950. He was awarded for the best ERA award 3 times, and the most number of wins once. Was the ace pitcher for the Giants during the team's 2nd golden period in the 40s to the early 50s. He passed away on April 28, 1997 from heart failure.
Shinichi Etoh
Born Oct.6, 1837. Was 178cm. and 90 kilos in his heydays. Played for the Dragons from 1959, for Lotte from 1970, then Yokohama from 1972, in 1975 he joined the Lions,and finally went back to Lotte in 1976 and decided to retire. He was the first Japanese ball player to become the leading hitter in both leagues. He won the title 3 times. His lifetime record is 2057 base hits and 367 homeruns.
Atsuya Furuta
Born Aug.6, 1965. 180 cm.tall and weighs 80 kilos. Joined the Swallows in 1989. He's regarded as Japan's best catcher ever. He's the 1997 MVP for both the Central League and the Japan Series. He married popular TV announcer Miho Nakai in 1996. He both coached and played for the Swallows until 2007 and then retired as a player.
Tatsunori Hara
Born July 22, 1958. Dubbed "wakadaisho" or "young leader". His relationship with his father who was his baseball coach in high school is well known. He played at the high school baseball championship 4 times. Became an idol at that time. Was 2 time triple crown king in collegiate baseball. He was the number 1 pick of the Yomiuri Giants in the 1980 draft meeting. Was awarded best rookie with 22 homeruns. He was the RBI king in 1983, and also won MVP that year. Retired in 1995. Is Giants' coach from the 1999 season.
Kazuhisa Inao
Born June 19, 1937. Known for pitching long innings consecutively. His name was used in a set phrase "kamisama, hotokesama, Inaosama" as in a prayer to god for help. The year he entered pro baseball in 1956, he won rookie of the year. He won more than 30 games 3 years in a row. In 1961 he marked a record, 42 wins. It's no exaggeration to say that without him, the Lions would not have had its golden era. He's skippered Nishitetsu and Lotte Orions.
Hideki Irabu
Born May 5, 1969, 189 cm. tall and weighs 95 kilos. Joined the New York Yankees from the middle of the 1997 season. Was before then a pitcher for the Lotte Marines. In 2000 joined the Montreal Expos but was out most of the season due to an arm injury. Dubbed "kurage" meaning jellyfish, because of his wiggly pitching motion. Broke Japan's pitching speed record when he marked 158 km/hr hurling to Kazuhiro Kiyohara, then a Lions hitter in 1993. The top winning pitcher of 1994. The pitcher with the best ERA in 1995 and 1996.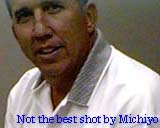 Davey Johnson
Born January 30, 1943 in Florida. After playing for the Baltimore Orioles and Atlanta Braves, he came to Japan in 1975 to play under Tokyo Giants' new manager Shigeo Nagashima. He was criticized that season for not playing well, but in th 76 season, he contributed to the Giants winning the Central League pennant. He later became successful as the manager of U.S. Major League teams-- the Cincinnatti Reds, and the Baltimore Orioles. He led the New York Mets to clinch the World Champion title in 1986. On Oct.23, 1998 Davey has officially signed a 3 year contract with the L.A. Dodgers.
Michiyo's Note : I met Davey in May 1998 when he came for a visit to Tokyo. He hasn't been back in Japan since 1986--when he came with the U.S. all star team to play against the Japanese counterparts. He disclosed the fact that, because the Japanese players did not perform top quality back then, he deliberately told his players to lose one game for the sake of promoting good relations. He seems to love Japan except for sushi.
Sachio Kinugasa
Japan's iron man and actually looks like one. Played for the Hiroshima Carp. He appeared in 2215 consecutive games between Oct.19 1970 to Oct.22, 1987-- breaking Lou Gehrig's world record. However, on June 14 1996, Kinugasa's record was broken by Cal Ripken Jr of the Baltimore Orioles.

Masanori Murakami
The first Japanese to play in the US Major Leagues. He played for the San Francisco Giants from the 1964 to the 1965 season. He returned to play ball in Japan's Pacific League thereafter.
Michiyo's Note: He was thrilled when Nomo became a player for the LA Dodgers. He is grateful to Nomo also for making Murakami a famous name. Before Nomo, Murakami was hardly known to the Japanese.
Minoru Murayama
He was already a star player as a student of Kansai University. Entered the Hanshin Tigers in 1959. As a rookie with the Tigers, he won 18 games. One of his best known moments was when he was humiliated before Emperor Showa in June 1959, when Giant' Shigeo Nagashima slugged a game winning homerun off him. His career record is 222 wins over 147 losses and achieved a lifetime ERA of 2.09. Murayama died from rectum cancer on Aug. 22, 1998 at the age of 61.
Shigeo Nagashima
Born Feb. 20, 1936. Most popular baseball player ever. Known as "Mr. Giants". Played for the Tokyo Giants from 1958 to 1973. Was awarded Most Valuable Player 5 times, leading hitter 6 times, and homerun king twice. Is presently skippering the Tokyo Giants.
Michiyo's note: I wasn't very fond of him, probably because I never knew him as a player. I know him more as a baseball commentator, and I couldn't stand listening to him. He wasn't very selective with his usage of words, habitually using incomprehensible Japanese English. During the past couple of years though,I've learned to appreciated him. He seems friendly and down to earth.
Futoshi Nakanishi
Born April 11, 1933. Entered the Nishitetsu Lions in 1952. Selected rookie of the year at the time. He's clinched the homerun title 5 times during his 18-year baseball career. He was one of the leading players during Nishitetsu's golden era. Has skippered and coached for numerous teams.
Katsuya Nomura
Born June 29, 1935. Catcher. 175 cm. tall, weighs 80 kilos. In 1954, began pro baseball with the Nankai Hawks. From 1970 to 1978, he was a playing manager. The team won the league championship in 1973. He later played for the Lotte Orions and the Seibu Lions, and retired in 1980. His batting record stands 2nd in Japan with a career total of 2901 base hits, 657 homeruns and 1988 runs batted in. Has headed the Yakult Swallows as manager from 1990 to 1998. The team became Japan champion 3 times. His son Dan Nomura represents Hideo Nomo, Hideki Irabu, and Masato Yoshii in the U.S. Nomura is the Tigers' manager from the 1999 season.
Hiromitsu Ochiai
Born Dec.9, 1953. Is 173 cm.tall, and weighs 82 kilos.
Was the oldest active pro baseball player in 1998 at 44 but retired that year. Three-time triple crown winner in the Pacific League. He's played the central batter for the Lotte Orions from 1978 to 1986, until 1993 for the Chunichi Dragons, then for the Tokyo Giants until the end of the '96 season. Played 2 years with the Nippon Ham Fighters until the end of '98 and retired. Has played professionally since 1979. Became the highest paid Japanese player in his time. Is estimated to have earned 370 million yen in 1996 from playing baseball alone.
Sadaharu Oh
Born May 20, 1940. Homerun world record holder. Blasted 868 homeruns playing for the Tokyo Giants from 1959 to 1990. Won the title of homerun king 15 times. First player in Japan to win the triple crown. Since 1995, skippers the Fukuoka Daiei Hawks.
Michiyo's note: I became an avid Japanese baseball fan right after I saw Oh's name in Sao Paulo's newspaper when I lived there. His name was highlighted in 1977 when he broke Hank Aaron's homerun record of 754.
Masaki Saitoh
Born Feb.18, 1965. Is 181 cm. tall and weighs 88 kilos.
Giant's ace pitcher. Has won the Japanese version of the Cy Young Award, or Sawamura Award, twice. He's recorded the most game wins in the Central League 5 times. In the 1997, he was a big disappointment, winning only 6 games.
Kazuhiro Sasaki
Born Feb. 22, 1968. 189 cm. tall and weighs 95 kilos. Dubbed "daimajin" or the "great devil". Won the title for the most saves 5 times. He holds a number of Japan records. They are in the number of saves per season with his 39th in Oct. 1997, career total saves of 217 marked on June 4, 1998 and consecutive saves of 17 on June 17, 1998. His 1999 contract with the Bay Stars was 480 million yen. In 2000, he joined the Seattle Mariners and was awarded Rookie of the Year. He returned to play with the BayStars in 2004 and retired in 2005.
Kazuto Tsuruoka
Born July 27, 1916. He joined Nankai in 1939 and during his 8 years as a player he clinched MVP 3 times, and the home run and RBI titles once each. He established a greater name as the team manager leading the Nankai for 23 years. He took the team to league victory 11 times. In 1965, Tsuruoka entered the Baseball Hall of Fame. He died Mar. 7. at 83 in Osaka.

Wally Yonamine
Born in Hawaii on June 24, 1925. Played for the Tokyo Giants from 1951 to 61, then for the Chunichi Dragons from 61 to 62. He was the manager fo the Dragons too for 6 years. He's been awarded MVP once and won the batting title 3 times. This Japanese American player is accredited for introducing the "real"American style baseball to Japan. That is how to slide into base and steal. Before him, a Japanese player did not run to 1st base unless he was sure that he's hit the ball right. Wally entered Japan's Baseball Hall of Fame in 1994.
Michiyo's note: I saw Wally most recently on July 10, 1998. This was a week after Wally had a party organized by the Ministry of Foreign Affairs to celebrate the Order of Sacred Treasure he's received earlier this year.
Yoshio Yoshida
Born in 1933. Is 165 cm. tall. Central batter for the Hanshin Tigers. Dubbed Ushiwakamaru because of his swift and accurate movement as a shortstop. He was the leader in base stealing twice. He wore number 23, and it still remains to be his. Was manager for the Tigers twice, has made a comeback for the '97 season and quit after the '98 season.
Masato Yoshii
Born Apr.10, 1965. 185 cm. tall and weighs 88 kilos. Right hander. As a high school student, played in the high school championships twice. He was the 2nd draft pick for the Kintetsu Buffaloes in 1983. 1988 best relief pitcher in the Pacific League. Played for the Yakult Swallows from 1995 to 1997. On becoming a free agent, decided to sign with the New York Mets for an annual sum of 200 thousand US dollars rather than take the 3-year 800 million yen contract assumed to have been offered by the Yokohama Bay Stars. In 2000 played for the Colorado Rockies. He later returned to Japan and retire in 2007.
TODAY'S SUPERSTARS
Kazuhiro Kiyohara
Born Aug. 18, 1967. Stands 186 cm. and weighs 91 kilos.
Was a star since his high school days at PL Gakuen. Masumi Kuwata was his star teammate there. They won the high school championship twice. He was the top pick for the Seibu Lions in the 1985 baseball draft. Won the Pacific League Rookie of the Year in 1986. The central player of the Lions ever since, and contributed to the teams 8 Pacific League victories. Estimated to have earned 280 million yen in 1996. He joined his favorite team, the Tokyo Giants from the 1997 season. He agreed to a 5 year contract for an annual 360 million yen. He turned out to be a disappointment in 1997.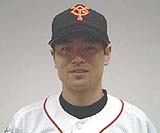 Masumi Kuwata
Born on April Fool's Day in 1968, 175 cm. tall and weighs 78 kilos. Was Kiyohara's teammate in high school. Was the number one draft pick for the Giants in 1985. Has won MVP, and the Sawamura Award. Has been out from April 1995 and the entire 1996 season due to serious damage of the ligament in the right elbow. He made a successful comeback in the 1997 season achieving 10 wins. He announced on Oct. 28,1997 that he will stay with the Giants for another 3 years for 400 million yen. In 2007, he played for the Pittsburgh Pirates, but was out later in the season due to injury. He operated his right ankle. But he was unable to win a place on the team in 2008, so he announced his retirement.
Michiyo's Note:I interviewed Kuwata on Oct.17, 1997. That's when I took the picture on the right. I was reassured that he's a man of great will power. At the same time, he's friendly, polite, and treats the fans as someone special. He told me that their support when he was rehabilitating from his surgery really kept him going.
Daisuke Matsuzaka
Born Sept 18, 1980 in Tokyo. 180 cm tall about 80 kilos. Right handed pitcher. Became a superstar already as a high school baseball player. Clinched the high school championship in the spring and summer of 1998. Joined the Seibu Lions in 1999. Marked 16 wins 5 losses to win rookie award and top winning pitcher title. Played at the Sydney Olympic Games but failed to help Japan win a medal. In 2000, he won the pitching title again.
Hideki Matsui
Born June 12, 1974. Stands 186cm. tall and weighs 95 kilos. Nicknamed "Godzilla". You'll be convinced why he's called so immediately after seeing him. Since his high school days he was known for his explosive homeruns. Matsui plays for the Giants and is believed to succeed Ochiai in the baseball scene. He is the youngest player to be selected MVP at 22. He won it for the 1996 season. In 1998 Matsui won his first homerun and most runs batted in titles. In 2000 Matsui did it again.
Hideo Nomo
Currently with the Detroit Tigers. He played for the Milwaukee Brewers in 1999, and before that since May 1998 with the New York Mets. From 1995 until then he pitched for the Los Angeles Dodgers. Names National League Rookie of the Year in 1995. Played for the Kintetsu Buffaloes from 1990 to 1994. Pacific League leading pitcher from 1990 to 1993.
Michiyo's note: I was so glad to see a Japanese playing in the Major League in 1995. He's only the second since Masanori Murakami who played for the San Francisco Giants in 1964. I've watched almost every game he pitched in 1996 and 1997 live.
Ichiro Suzuki
Is 180 cm. tall and weighs 71 kilos. Is better known as just "Ichiro". He signed a 3 year contract with the Seattle Mariners in Nov. 2000. Until then he played for the Orix Blue Wave. Most Valuable Player 3 years in a row. Has won the batting title 7 years in a row. Hits well, runs fast, and throws very long distance. The highest paid player at 500 million yen for the 1998 season.
Michiyo's note:Japanese baseball lacked stars 5 years or so before Ichiro's emergence. Thanks to Ichiro, fans have been paying more attention to his league. But with him gone from the Pacific League which lacks stars, the impact his absence may have is of concern.
MORE STARS COMING UP!