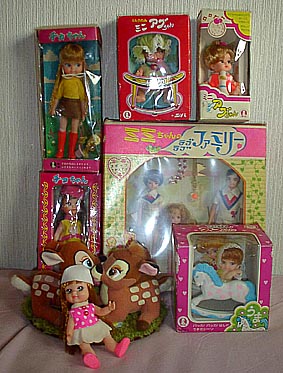 CHICO-CHAN
(SHIBA 1970?)
Little girl doll with side glance eyes,long straight hair.
Hair color is Brunette and Titian .Her friend is "Chika-chan".
She is only Bronde hair. Chika has many accessories common to Tammy and Licca. It is that point to so many other '60s dolls.
ABU-CHAN
(SHIBA 1971)
This is a baby-doll.
Its name is derived from bib, and for our Japanese call it "Abu-chan". 
There are many kinds of Abuchan dolls. Also there are some kinds about size. ABUchan has a bubble hair and they are blond or brown. They can hold a nursing bottle in one's mouth.


MIMI-CHAN'S LOVE LOVE FAMILY
(SHIBA 1974)

They were sold in a set of four... a girl named Mimi-chan, Mom&Dad and a baby. Mom&Dad have bendable legs.
There are six kind---Travel-Family, Sport-family, Party-family, Hiking-family, Home-family, Shopping-family".
There are six kinds of dress sets identically.
Television commercial message was televised, but the person who knows the existence in Japan is very a minority.