Oshama na YUKKO-CHAN
(TOMMY Corp. 1975)
She has joints in her arms and legs!
Yukko-chan is flip hairstyle and color is chestnut.
She is a doll of a very pretty face.
There are
/Cycling Yukko-chan (Yukko-chan the cyclist)
/Osanpo-Yukko-chan (Walking Yukko-chan)
/Osanpo Yukko-chan Babycar set (Walking Yukko-chan and baby carriage)
/Cycling Yukko-chan Patrol lady (Yukko-chan the policewomen)
/Yukko-chan Mini Cycle (Yukko-chan of a mini-bicycle )
/Hatsuratsu Yukko-chan <Kuru-Kuru Tetsubou>
(Active girl Yukko of horizontal bar)
/Pianist Yukko-chan (Yukko-chan the pianist)
/Ballerina Yukko-chan (Yukko-chan the ballerina)
/Batton Girl Yukko-chan
/Yukko-chan Melody cahir
Her shoes are very unique. There is a projection to a point of shoes so that she doesn't slip off a pedal of a bicycle. (Also, boy friend Ma-bou.)

Her friends are "Ma-bou"(boyfriend), "Baby"(not her sister)
and "Sport lady Yo-ko". Yo-ko has
Ma-bou looks a lot like Kenji. (Rainbow Nana-chan's boyfriend)
He has brown shiny hair.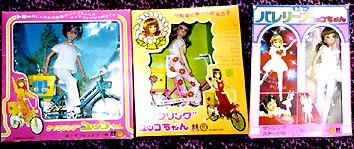 L to R: CYCLING MA-BOU / CYCLING YUKKO-CHAN /
BALLELINA YUKKO-CHAN.
Yukko-chan has many outfit.
A kind of dress called a "Leisure series" is Sketching, Tennis, Picnic, Insect-collecting and Camp.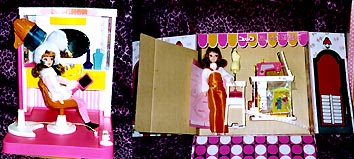 LEFT: OSHARE BIYOUIN (Fashionable Beauty Parlor)
RIGHT: OSHARE YOUSAI-TEN
(Fashionable Dressmaker's Shop/including dolls)
Two house has a very fun gimmick. It runs really!!
A sewing machine works when picks up a foot of her.
And wind blows from a drier.
These are same as "Sears exclusive" beauty parlor and
Dressmaker's shop for Barbie in 1970's.